Bradley to start from pole after qualifying washout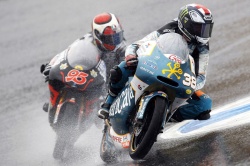 Posted on Oct 30, 2010 by Pixel Pixel
Rainy conditions from yesterday continued at the Grand Prix of Portugal continued today, with this morning's third free practice taking place in dangerously wet conditions as several 125cc riders crashed out. The downpour intensified over lunch and at 1300h, when the minor category were due to return to the track for qualifying, Race Direction decided to postpone all track action until 1430h before eventually cancelling all remaining sessions.

Thanks to their excellent performances in free practice both Bancaja Aspar riders will start from the front row, with Bradley Smith on pole for the third time this season (the others were Brno and Misano) after setting the pace yesterday and this morning in the wet. Nico Terol was second fastest to his team-mate this morning despite a crash in turn twelve just four minutes from the end. However, his lap time was good enough to secure fourth place on the grid.

1st Bradley Smith 2.00.148: "I am really happy to be on pole. It's not the best way to achieve it but it goes to show that you always have to give your best and work as hard as you can in every session. I am very motivated ahead of the race and I have a good feeling with the bike in these conditions. It makes three poles for the year, which equals my tally from 2008 and 2009, and nine for my career. This was the strangest one but the important thing is that we start from the front of the grid and we're ready to race. At the moment it's difficult to predict what could happen, we'll have to wait and see what the weather does. If it is wet we are more or less clear on our plan but if it's dry we'll just have to make it up as we go along!"