Bradley's Blog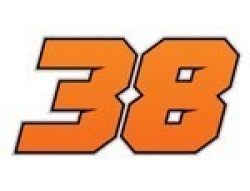 Posted on Apr 27, 2017 by George Penny
Fighting for a single World Championship point may be something that I'm not used to but I honestly love the whole challenge with a new MotoGP team. I've been sixth in the MotoGP World Championship and stood on a MotoGP podium but I'm getting more fulfilment from what I'm doing this season than any of those special moments. Once you've done that and ticked it off your wish list I want to move on. Do I want to be sixth place guy or move on? Of course it would be great and comfortable for a while but I'm always looking for a new adventure and I'm certainly getting just that. Honestly, this is what I wanted to do. I wanted to be involved in a project right from the start developing a brand new KTM MotoGP bike. I wanted to test not only my riding but also technical skills. We get our fulfilment from small things like the qualifying lap here in Texas, finishing in front of Álvaro Bautista on the grid, racing with Barbara and Rabat and taking our first World Championship point in Argentina. We don't have any negatives because this season is all about gaining information and moving forward. Would I have been happier finishing sixth in Texas?, probably not. Of course at the end of the day the racer in you wants to be fighting for a place on the podium and victory but if you can't fight there it's better to be fighting with a group of guys for points while moving forward on and off the track. Everybody in KTM wants to be right up with the top teams and riders and that's inspiring in itself. We know it will take time.
I'm both pleased and positive because I've not made any mistakes in the three races, finished them without a crash and getting the KTM across the line in the best way I can. Two good races and a bad one here in Texas which probably taught us more than the first two.
Lack of track time is our major problem as a brand new team. Lack of track time means lack of data and lack of knowledge because we are figuring things out as we go along. Having the choice of three Michelin tyres front and rear this year is a real blessing for the safety but a headache for us. This weekend is the perfect example with a sunny first day of two practice sessions and then a freezing cold day for final practice and qualifying. It puts us behind with so many different tyre choices and perhaps leads us down the wrong path because we have no old data for reference and only two bikes out on track. There are other manufacturers with six bikes on the grid and so me and team-mate Pol Espargaro have to put a decent amount of laps on the different tyres. It's very tricky but the weekend of struggle and work is really fulfilling. The effort that went into Argentina to get a point was tremendous and the same effort here but the point did not come. Some weekends are just going to be like this.
Testing went by so quickly just nine days disappeared before the season started. Then you turn up at a grand prix weekend where you have no previous data and you get 20/25 laps of practice if you are lucky. The last two tracks in Argentina and Texas we had absolutely zero data while in the opening round in Qatar we had tested previously. I was happy in Qatar and for the team because we both got across the line in their first grand prix as a factory team. Everybody did a great job.
In Argentina we got our first points of the season and you could not have written a better story. Here in Austin Texas I qualified with a really good one off lap although we always knew Austin with its 20 corners was going to be the most difficult of the first three. I was delighted with the lap but knew I could not do them consistently in the race. In both Qatar and Argentina the lap times were consistent but here we struggled and honestly that was the first negative of the opening three races. Without negative you don't improve and you need the technical problems of this weekend and 21 laps of such a demanding circuit to point us in the direction of improving. The guys in the team have been amazing and work so hard. They have introduced little changes throughout the three weekends to give us the best and we have always been competitive, gained our first points. Now after these flyaway races we have the chance to get back to Austria analyse all the data and we have a test at Le Mans before the next grand prix in Jerez where there is also a test the day after the Spanish Grand Prix. We should a new engine configuration in Le Mans ready for Jerez. It is just a constant evolution of progression and it's a road, as we have already seen, will have its ups and downs. On the down days it's important to finish the race to give the guys the data they need for the long haul.