Bring it on - The wait is over!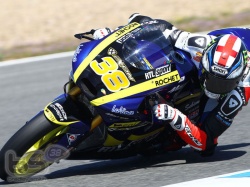 Posted on Apr 04, 2012 by Nick Harris
"The wait is over and the start of the season has at last arrived. Seventeen Moto2 grands prix in seven months of globe trotting and I can't wait for that first practice session under the floodlights of the Losail International circuit in Qatar on Thursday evening.
It's been a very busy winter but it's only when the racing gets underway that the real adrenalin starts to flow. I really believe the season is going be fiercer and closer than ever before with so many riders on top bikes this year. I think it's going to be more like that first Moto2 season in 2010 when there were so many different winners and pole setters. The Championship could go all the way to the wire and we aim to be there.
The Tech 3 team and Tom my crew chief in particular have done an amazing job with the Mistral 610. We have tried and tested so many new parts and for the last test in Jerez brought a new chassis and swinging arm. I was pleased with the result although we were slightly behind the pace setters but we are in a far better position technically than we ever have been and that is sure to show not only in Qatar but for the rest of the season. I also got rid of my big crash for the year on the last day with just a few bumps and bruises.
Training has been fantastic in the winter both in the Californian sunshine and back home in Oxford in February and March. We altered the schedule this year with more motocrossing which got a big thumbs up and more emphasis on strength training to help me on the bike. We will find out at the weekend if the hard work was worth it but already I've lost two kilos in weight and gained five kilos in muscle.
Just before we flew out to Qatar I did some filming and photography at Eynsham Hall near Witney and you can check out the result on BBC South Television, BBC Sport online and my local paper, the Oxford Mail.
As always I'm determined to give you value for money because your support and sponsorship is the very lifeblood of our Championship campaign.
The Moto2 race from Qatar is televised live on Sunday evening on the BBC red button and British Eurosport. My best way of thanking you for your continued support is a good solid start to the next seven months and I promise you that is what all of us will be totally focused on achieving."
Bradley