Costly mistake for Smith in Assen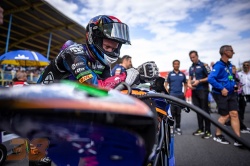 Posted on Jun 26, 2022 by WithU GRT RNF MotoE
The second race day for the FIM Enel MotoE World Cup at the Dutch Grand Prix was strongly influenced by the weather. At the start of the race, rain arrived at the TT Circuit Assen, which caused the race to be delayed and eventually classed as a wet race. Conditions changed quickly, so the race was then declared a dry race and reduced to six laps. After just three laps, an incident between two riders brought out the red flag, which cut the eighth race of the 2022 season very short and reduced the respective points by half.
WithU GRT RNF MotoE Team's Niccolò Canepa managed to make the best out of it after he started from sixth on the grid, he was back in P8 iafter the trouble of the opening lap, but after just another lap found his way up to fifth, which after the red flag was his end result. Canepa leaves the fourth round of 2022 in sixth position of the overall standings with 70.5 points.
On the other side of the WithU GRT RNF MotoE Team garage, Bradley Smith was eager to get even more into race mode on Sunday, after he did his first race back from injury yesterday. He took a gamble on the grid and opted for rain tyres. Starting from P8, he then went a bit too optimistic into the first lap, ran wide and came back to the track at the end of the field with more than seven seconds to the second last. Yet, the Englishman started to close the gap quickly, although his progress was halted by the early race stop.

After the long summer break, the WithU GRT RNF MotoE Team duo will be back in action at the end of August during the Austrian Grand Prix at the Red Bull Ring in Spielberg.