Crash.net Interview: Trackside at Sepang with Bradley Smith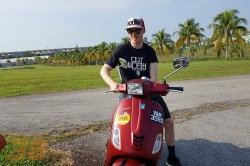 Posted on Feb 15, 2019 by George Penny
A fantastic base to start from
Smith, who had been riding the new RS-GP at Sepang during the earlier Shakedown, was called-up to take part in the conclusion of the Official test, in place of the absent Andrea Iannone.
Reflecting on the opening MotoGP action of 2019, which saw Aleix Espargaro set the seventh fastest lap time for Aprilia, Smith said: "It's been a lot of fun, honestly. Because after a couple of weeks off the bike during the winter it was nice to get back to work again.
"I'm really happy that the work that we did [in the test team] was able to transfer to something that Aleix liked and was immediately faster with from the first moment. To see the Aprilia doing a 1m 59.0 and inside the top eight means a great job by all of the team.
"We've tried many things, trying to understand everything and give the guys a real picture of the motorcycle and the next developments to work on in the next few weeks before we arrive in Qatar.
"But what a fantastic base to start from: Plenty of laps, plenty of information and now I'm sure the guys will come up with something more.
"Overall I'm really satisfied. The bike is turning very well, Aprilia have done a big upgrade on the electronics from last year and everything is going in the right direction.
"So we'll keep our head down and hopefully Aprilia will be ready to fight for a top ten in Qatar.
"For me, I have to continue to do my test job, but obviously I'm also looking forward to doing the [wild-card in Qatar] where we'll aim to be closer and more competitive with Aleix and Andrea."

I hope Aprilia use Bradley a lot
Also at Sepang, Espargaro spoke about the importance of having Smith - a MotoGP podium finisher for Tech3 Yamaha, before two seasons at the factory KTM team - join the factory for 2019.
"I'm very happy with Bradley. He is very humble, always asking me how I feel with the things he tries and if his indications are going in the direction I need," Espargaro said.

"For me, one really young guy coming from racing only last season, I didn't expect that, so first I have to say thanks.
"Then obviously to have a test rider that is fast and riding a very similar pace and level to us is super helpful for the team and engineers. I really hope that Aprilia use him a lot to try new things and develop the bike.

"In this era of MotoGP, everybody improves super-fast but our [race rider] schedule is full and we cannot do many tests.

"From the example of Sylvain in Suzuki, Michele in Ducati, it's clear [how important a strong test team is] and you can see the results. Also KTM did a good move with Dani, having already Mika, who is a very fast rider.

"So we were missing this. Our test team now has a strong crew chief, good mechanics and a really good rider. So now we have to use this to try new things."


Courtesy of Peter McLaren
Full article available at Crash.net