Difficult challenge learning new track with little grip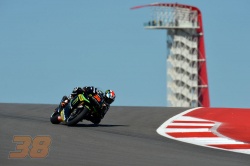 Posted on Apr 20, 2013 by Monster Yamaha Tech 3
The Monster Yamaha Tech 3 rider faced the difficult challenge of learning the long and technical track, which features 20 corners, the longest straight on the 18-round MotoGP calendar and a 134ft climb from the start line to the first corner.
Conditions today were far from ideal despite a glorious clear blue sky covering the track. A cold wind resulted in low air and track temperatures, which had a big impact on grip levels.
A slippery surface provided the biggest challenge for British rider Bradley Smith, who only felt confident enough to push anywhere close to his limit towards the end of FP2. Smith finished 13th fastest in FP1 and although he was able to shave close to four seconds off his pace this afternoon, he remained in the same position on the combined leaderboard.
He finished the day with a quickest pace of 2.09.424 and the 22-year-old is confident that with more track knowledge to call upon tomorrow he will be challenging for a place inside the top 10.
Bradley Smith 13th 2.09.424 – 33 laps
"It was great to finally be on track today and get a first taste of what is an amazing track but incredibly difficult to learn. After the fire in the garage on Wednesday night my crew and even my old team from Moto2 have been working flat-out to make sure we were ready. So just being on track felt like a big achievement today. This morning was very difficult because I have never ridden with such little grip, and that doesn't help you learn the track. Going into this afternoon where we did have grip, it took me a while to actually adapt to the track. We improved the bike and I felt much more comfortable at the end and we have a direction to follow for tomorrow morning. What is critical is being able to put the bike where you want and at the moment I am struggling in that area. You have to be so specific here but I am happy to be four seconds faster this afternoon. That's good progress but I need to make the next step. I know my weak points and I will be ready to make the improvements."