Difficult qualifiers complicate Bradley's plans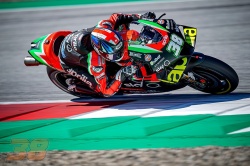 Posted on Aug 22, 2020 by Aprilia Racing Team Gresini
On the second Saturday in a row at the Red Bull Ring, the overall performance of the Aprilia riders showed promising improvement, made less tangible only by a less-than-optimum qualifying session.
Bradley Smith improved his times consistently, continuing to focus on preparing for tomorrow's race. A little hiccup in Q1 during his flying lap resulted in the sixth row on the starting grid, a position from which he'll start his hunt for the points zone.

Bradley Smith:
"I am rather pleased today as we are continuing to improve. We are working in the right direction. My feeling with the RS-GP is increasing, especially in terms of race pace. It's a pity about the qualifiers. In the last sector, I saw the marshals busy with Valentino's crash and I slowed down. I could have improved by a few positions. In any case, I have a good pace for tomorrow. A good result in the race would be the right conclusion for this weekend."