Double top 10 for Tech 3 at sun-drenched Sachsenring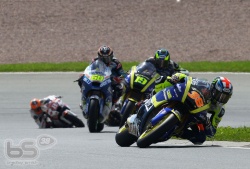 Posted on Jul 08, 2012 by Tech3 Racing
Bradley Smith and Xavier Simeon scored the first double top 10 finish of 2012 for the Tech 3 Racing Team at the end of a hard fought Moto2 battle at a sun-drenched Sachsenring today.
Smith made an aggressive start and was battling inside the top five in the early stages of a race run in the best conditions of a rain-hit weekend, with temperatures soaring to a physically demanding 27 degrees.
The 21-year-old produced a rousing effort to try and secure a second successive top six finish and put Italian rider Simone Corsi under immense pressure in the final laps. But with the tight and twisty Sachsenring layout making it difficult to overtake, Smith was less than 0.4s away from sixth at the end of the 29-lap encounter.
Bradley Smith 7th – 56 points
"I am really happy with the first part of the race because I was battling for the podium and that is where I should be. But the second half of the race wasn't so easy and it is clear we still have some work to do to improve the Mistral 610 machine. I had the same problem in the race that I had all weekend in the dry and that was a lack of rear grip. We tried a lot of things to improve it but I didn't have the drive out of the corner like the rest. It is a pity that I didn't quite finish in sixth because that would have been a decent outcome, but seventh still gives us something to build on. The Mistral 610 is getting better and that is clear because both myself and Xavier were able to finish inside the top 10, so that shows the brilliant work the team have been doing. Now we go to Mugello, which is one of my favourite tracks, and I'm hoping to have another great battle like last year when I was third."

Herve Poncharal – Team Manager
"I am very satisfied to see Bradley and Xavier together inside the top 10 for the first time this season. This result shows we are making progress with the Mistral 610 machine and we go to Mugello next week looking forward to both of them being very competitive again. It was fantastic at the beginning of the race to see them both fighting hard inside the top five and Bradley was really pushing hard to battle for the podium. We knew it was going to be difficult to maintain that pace because with so much rain earlier in the weekend it meant we only had limited time to work on the dry set-up of the Mistral 610 machine. Bradley kept his focus though and it was a shame that he couldn't quite get into the top six because I think he deserved it."