Encouraging first day at Indy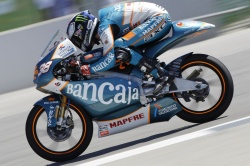 Posted on Aug 27, 2010 by Aspar Press
Blue skies and 29ºC temperatures welcomed the 125cc World Championship to Indianapolis, which saw some surprises at the top of the timesheets in the opening free practice. Normal order was restored after twenty minutes as Terol, Smith, Márquez, Espargaró and Cortese battled for top spot - all five riders lapping in the 1'49s and separated by just four tenths of a second. A further gap of three tenths separates them from the rest of the field and although Márquez finished on top today it promises to be an intense battle for pole position tomorrow.

Bancaja Aspar pair Nico Terol and Bradley Smith can fully expect to be in with a chance after both topping the time sheets at some stage today, at one point engaging in a straight head-to-head battle for first place that was reminiscent of their dominance of practice in Brno two weeks ago. Both riders made three pit stops today and both set their best times on the final lap. Nico finished third fastest and Bradley fifth although they are hopeful of improving on those positions in tomorrow's qualifying session.

5th Bradley Smith 1.49.908 (24 laps): "The good thing about today is that we're not far off in terms of times but I didn't really get a good feel for the rear of the bike. My feeling with the front in the slow corners is really good and I feel really confident with it but in the fast sections I don't have as much grip as I'd like. Anyway, I'm happy because everything seems to be working well and if we can sort out the rear grip tomorrow we'll have a really good setting. We'll try and get a bit more out of the engine tomorrow too but we still have plenty of time and I'm happy with where we're at for the first day."