Exclusive Motorcycle Racer Magazine Subscription Offer!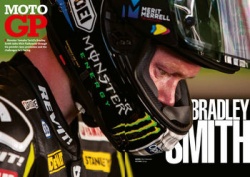 Posted on Jun 19, 2013 by George Penny
Bradley Smith has been a favourite of Motorcycle Racer Magazine for quite some time now and after various appearances in the magazine (including this months edition) and previously taking on the role of Guest Editor, the folks over at Racer want to thank Bradley's fans with 10% off the usual subscription price!

Motorcycle Racer is the world's No1 road race magazine, featuring exclusive interviews with all the big names from MotoGP, WSBK, British Superbike, National Superstock and more.

If you like the sound of that, then you can get a 12 month UK subscription for just £37.13 - all you need to do is click on the special Bradley Smith Fans link below!
What are you waiting for?
www.motorcycleracer.com/bradleysmith