Fantastic fourth for Smith in Mugello thriller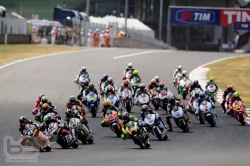 Posted on Jul 16, 2012 by Tech3 Racing
Bradley Smith took a fantastic fourth place in a thrilling Gran Premio d'Italia TIM Moto2 race today, the Tech 3 Racing Team rider finishing just over one second behind winner Andrea Iannone.
Smith took full advantage of his sixth position on the grid to attack for the podium right from the start of a 21-lap race that took place in hot and humid conditions at the majestic Mugello circuit.
In a typically frantic opening, Smith dropped back from fourth to ninth with the leading group constantly changing places in a ra ce that once again demonstrated how exciting and tense the action in the Moto2 World Championship is. Smith's push for his first podium of the campaign started on lap 12 when he moved within striking distance of World Championship leader Marc Marquez in fifth position. His magnificent pursuit of the leading trio involving Iannone, Pol Espargaro and Thomas Luthi remained relentless and on lap 19 he set the third fastest lap of the race.
The 21-year-old started the final lap poised to mount a late attack for the podium, but despite putting Luthi under immense pressure, the Swiss rider displayed ice cool nerves to ride a faultless last lap that denied Smith third by just 0.128s.
Smith was still delighted to have scored his best result of the season and shown that Tech 3 Racing's Mistral 610 machine is one of the most competitive on the closely contested Moto2 gr id. The 13-points gained today moved Smith to within eight-points of the top six in the World Championship rankings.
Bradley Smith 4th – 69 points:
"That was an awesome race and it feels great to be fighting for the podium again. I struggled a bit at the beginning of the race when the other guys had new tyres because we focus on making the Mistral 610 fast on worn tyres. And that really paid off because in the se cond half of the race today I felt really strong and fast. I made a couple of aggressive moves and I was lucky a few times when some other riders went wide and I could get through. But I gave absolutely everything I had today and the bike was amazing, especially in the corners. The Tech 3 Racing Team did an amazing job and I really wanted a podium for them. I was probably only going to have a lonely fourth but Thomas made a mistake with about three laps to go and that put me right back with him. I gave it my all at the end but credit to him because he didn't crack under pressure and he never gave me a chance to take third. It would have been great to get on the podium again but now we go into the summer break on the back of a positive result and we can look forward to Indianapolis with a lot of optimism that we will be up there battling for the top three again."
Herve Poncharal – Team Manager:
"That was an incredible race and I'm delighted with Bradley's performance. Bradley did an incredible job from the start to the finish line and he pushed like a demon. We know he is a fighter and today he rode like a true champion. He was only one second away from the win and after all that effort he really deserved to finish on the podium. I'm also happy for the Tech 3 Racing Team. Everybody has been working non-stop to put the Mistral 610 back at the front in Moto2 and they can now start their summer break with a lot of satisfaction about today's result. We can also take a lot of confidence from today into the remainder of the season. I'm sure too that Bradley's result will be a boost for him as it is the first time the Mistral 610 has been so close to the front in 2012."