Final showdown: MotoE™ back in action at Valencia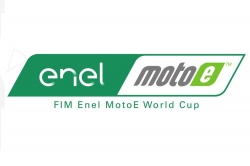 Posted on Nov 12, 2019 by MotoGP™
After a good few weeks of waiting, the FIM Enel MotoE™ World Cup is finally back in action in Valencia and raring to race. The final Round of the season is sure to be another spectacular show, and it will be more pivotal than ever as the inaugural MotoE™ Cup winner is decided. Who will it be? With 50 points still on the table, the list of contenders is long.
The top of that list and the top of the standings is occupied by one man, however: Matteo Ferrari (Trentino Gresini MotoE). The Italian sits on 72 points and has a comfortable margin over those on the chase, with consistency having put him in the running and the double at Misano then propelling him clear. But the season so far has shown you can never predict the next race in MotoE™...
Hector Garzo (Tech 3 E-Racing) will be hoping that remains true at Valencia. The Spaniard had some top speed at the venue in preseason testing and it's his home track – somewhere he knows better than most. 19 points would start to seem insurmountable if we only had one race, but there are two more to go and double the opportunity for the number 4 to eat into that advantage.
The same holds true for Bradley Smith (One Energy Racing), Mike Di Meglio (EG 0,0 Marc VDS) and Xavier Simeon (Avintia Esponsorama Racing), who are the next three men in the standings. A combination of bad luck and trouble have dented their points hauls in many ways, but all three have shown they have the pace to be serious challengers. Two more races with so much on the line mean they remain firmly in contention, although Simeon is coming back from injury sustained elsewhere.
In terms of the maths, there are actually 11 riders still in contention – with a 50 point gap covering everyone down to Nico Terol (Openbank Angel Nieto Team) in 12th. From Niccolo Canepa (LCR E-Team), Jesko Raffin (Dynavolt Intact GP) and Mattia Casadei (SIC58 Squadra Corse) to Sete Gibernau (Join Contract Pons 40), Alex De Angelis (Octo Pramac MotoE) and Terol, the list of those who could potentially take the Cup makes the possibilities endless.
The reason it's 11 and not 12, however, is one rider remaining sidelined through injury: Niki Tuuli, the early season pacesetter. He'll be replaced at Ajo MotoE by 2017 WorldSSP Champion Lucas Mahias, so that will be an interesting adaptation to watch. The Frenchman dives straight it with limited track time, but adaptation has been different up and down the grid.
There are also the likes of Eric Granado (Avintia Esponsorama Racing), winner of the "test" race at Valencia, and Maria Herrera (Openbank Angel Nieto Team), who's taken big steps forward as the season has gone on, to contend with. The standings tell us who remains in with a shot at the crown, but they don't tell us who's going to be fighting at the front. That's something that's changed race by race and session by session in MotoE™, and Valencia will be another stunner of a rollercoaster.
Make sure to come to the final pre-race talk show of the season in the E-Paddock at 14:00 (GTMT +1) on Thursday with Ferrari, Garzo, Smith, Gibernau and Herrera present to answer questions from media and fans alike, and then stay up to date with the first track action of the weekend as the grid head out for FP1 later than same day from 16:00 to 16:30! Who will be the inaugural FIM Enel MotoE™ World Cup winner? Ferrari? Garzo? Or another name who'll come out swinging and turn the tables once again…
Race 1 gets going at 16:15 (GMT +1) on Saturday, before the final showdown of the season at 10:05 on Sunday.

Cup standings
1 - Matteo Ferrari (ITA) 72
2 - Hector Garzo (SPA) 53
3 - Bradley Smith (GBR) 48
4 - Mike di Meglio (FRA) 47
5 - Xavier Simeon (BEL) 45