Genuine Tech 3 Monster Energy M1 Leo Vince Slip on Exhaust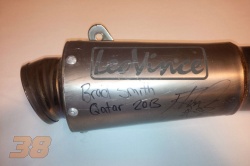 Posted on Aug 27, 2013 by George Penny
The Riders for Health - Day of Champions, is just around the corner and will be a great chance for fans of Bradley to bid on a number of unique items for sale, and raise money for a very worthwhile charity.
If you can't make it, but would still like to own a unique item of race memorabilia then this Ebay auction maybe for you.
Claude Desrosiers has contacted us as he has a Genuine Tech 3 Monster Energy M1 Leo Vince Slip-on Exhaust. This exhaust pipe was on Bradley Smith's 2013 Yamaha M1 Motogp bike and was damaged in a crash at the 2013 Qatar GP.
We don't typically endorse items on Ebay, but Claude is donating all net proceeds to the British Columbia Children's Hospital Foundation in Vancouver Canada.
Check out the link here.