Introducing MotoGP on BT Sport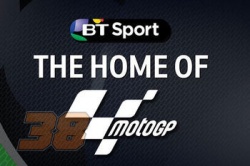 Posted on Feb 14, 2014 by George Penny
BT Sport has a five-year deal with Dorna Sports for exclusive rights to televise motorcycle racing's premier contest, the FIM MotoGP™ World Championship, starting from the 2014 season, with the opening race in Qatar on March 23.
Race weekends with BT Sport will be presented by television presenter Melanie Sykes alongside MotoGP experts, former British and World Superbike Champions, Neil Hodgson and James Toseland.
BT Sport will be reuniting commentators Ryder and Huewen. Julian Ryder, previously Eurosport's MotoGP commentator of more than 14 years will be joined by former British Champion and motorsport commentator, Keith Huewen, along with Motorcycle News chief grand prix correspondent, Matt Birt.
MotoGP commentator and presenter Gavin Emmett will be BT Sport's MotoGP reporter.
The channel's comprehensive coverage of MotoGP launches on March 18 with a special preview show, featuring interviews with all the top riders and action from the key official pre-season tests.
For each of the 19 race meetings in 2014, BT Sport will show the free practice and qualifying sessions live, full coverage of the Moto2™ and Moto3™ races and the elite MotoGP race across Friday, Saturday and Sunday.
It will be hosted on-site at each event with additional studio coverage from BT Sport's state of the art facilities at the Olympic Park in Stratford, East London. Award winning production company North One Television will produce BT Sport's coverage.
A new hour-long programme, MotoGP Tonight, will be broadcast at 8pm on Tuesdays, after every Grand Prix weekend. This will be presented by BT Sport's Craig Doyle and former Olympian and European and Commonwealth games 400 metres champion and biker, Iwan Thomas. The pair will be joined by an array of guests from the motorbike world.
Simon Green, head of BT Sport, said: "It's really exciting to be launching such a thrilling new sport on BT Sport, with a tremendous new team and what we believe will be a fresh approach to MotoGP and some fantastic new shows.
"MotoGP is the top, two-wheeled motorsport. It's massive in the UK and we're heading into it at full throttle and following every second of the action. We're sure we'll appeal to committed fans, but we also think we will win over and welcome new fans to the sport."
Manel Arroyo, managing director, Dorna Sports, said: "I'm pleased that MotoGP is part of such a huge and exciting project as BT Sport. I'm sure that BT Sport will provide the in-depth coverage that MotoGP deserves so that British fans can follow the fortunes of British riders in the Championship."
Live race weekend coverage on BT Sport will usually start on Friday mornings and will include all practice sessions and races throughout the weekend, with around five hours of coverage each day.
The opening night-time event in Qatar will be an exception to this, with coverage in addition on Thursday March 20 from 3pm to 7.45pm.
BT Sport is creating an exciting second screen MotoGP experience as part of the BT Sport app. Users will be able to watch the main coverage and choose from seven other camera views, including four fitted to bikes hitting more than 200mph, a helicopter view and live timing and tracking screens. Full races and highlights including interviews and features will also be available to watch on the app.