Ironmate: Marathon des Sables Update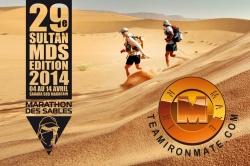 Posted on Apr 17, 2014 by George Penny
Mark Kleanthous (Ironmate Mark), a good friend of Bradley's who has been working alongside Team BS38 since 2008 has returned from completing his toughest challenge ever, a 155 mile dessert self-sufficient running event called the Marathon des Sables.
MdS is a 155 mile, 6 day event across the Sahara dessert & Mark finished 204th overall in a time of 36 hours 58 minutes and 33 gruelling seconds with an average speed of 6.46 KMPH & 16 hours 30 minutes behind the winner.
Mark used his effective coping strategies to overcome his fears pain exhaustion & blisters to complete the final marathon on day 6 in 4 hours 44 minutes, Running strong for the final day, Mark had his best position of the event finish 78th fastest for the last stage. 917 finished this years MdS & more than 150 did not finish. It is a self sufficient competition, the organisers only provide a bivouac and a limited amount of water at each check point. Minimum requirement was to carry 2,000 calories a day Flare, Venom pump, whistle signal mirror and sleeping bag.
He shared a bivouac (tent) with Britain's highest placed ever finisher Danny Kendall 5th overall & Stephen Hodges 2nd highest placed British finisher who placed 11th overall. Mark provided training and nutrition advice to some of the most successful runners in this years event. Mark's team was 5th overall "MyRaceKit" and was highest British team ever to finish the MdS.

Mark Kleanthous
"I had more blisters during the MdS than the total number since running in the first London marathon in 1981 (33 years ago) this was due to the deep sand causing the feet to move around inside my running shoes with every step I took & lost 4 lbs in body weight. Mark estimated he took 400,000 steps to get to the finish line".