Massive support for Bradley as he faces the battle ahead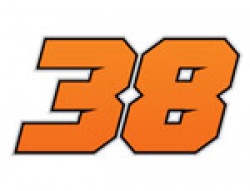 Posted on Mar 20, 2014 by Nick Harris
Sponsors and fans alike have united in a tremendous show of support for Bradley Smith as he embarks on the most important season of his highly successful grand prix career.
The 18 round MotoGP season kicks off on Sunday under the floodlights at the Losail International circuit in the Commercial Bank Grand Prix of Qatar. Smith and his team are ready and fully prepared for the battles that lie ahead in the next eight months and are greatly heartened by the support shown by both sponsors and fans.
Two new sponsors have come on board in the last couple of weeks while the hard core of sponsors who have supported 23 year old Bradley throughout his grand prix career have remained loyal as he embarks on such a crucial season.
Bridgestone UK and Rudy Project sunglasses will support Bradley for the first time this season while Optimum Procurement has signed a new two year personal sponsorship deal. Bridgestone's north region communications manager Andy Dingley said: "We are thrilled to have Bradley on board with us, who will play a critical role in our various aims and objectives for the rest of the year.
"With a number of new bike products already planned for the near future to supplement our existing range of critically acclaimed bike tyres, these are exciting times for Bridgestone.
"Having one of the brightest and most talented racers in MotoGP with us to help us communicate such announcements will be a huge boost for us, as we aim to reach out to even wider audiences and raise our presence accordingly.
"Having worked with Bradley in the past, we know how professional and knowledgeable he is about his profession, not to mention the motorcycle industry as a whole.
"He will be a valuable asset for us and we can't wait to get to work, during what will be another gripping MotoGP season."
Cristiano Barbazza, chairman of Rudy Project, confirms: "We're very excited to have Bradley Smith as a Rudy Project ambassador. We have great confidence in him; it'll be a thrill to see him race this year.
"It gives us even greater pleasure that Bradley, a huge fan of motocross and cycling, wears our products even in his training sessions away from the racetracks."
The complete package from the sponsors and the Monster Tech 3 Yamaha team have given Bradley, who was tenth in his rookie MotoGP season, a fantastic chance to obtain a new MotoGP contract next season by providing such a stable platform allowing him to concentrate solely on his riding.
"I can't thank sponsors old and new enough for their amazing support which makes me even more determined to have a great season." explained the three times grand prix winner before flying off to Doha.
"This is the most important season of my career and to have such backing and experience from everybody really gives me a great buzz and fills me with confidence. This is the crunch year and will have such a massive bearing on my grand prix future. We were happy with the end of the season last year and especially finishing second at the Valencia test. We've been delighted with pre-season testing especially in Qatar but that will mean nothing if we don't step up to the mark this year. It's a massive challenge and I can't wait to get started on Sunday. Pre-season has been brilliant and now I have to get out there and show what I'm made off".
It is a tough start to the season for the riders and teams with the opening three grands prix in Qatar, Austin (Texas) and Argentina before starting the European season. The season ends at Valencia (Spain) in November and Bradley has no doubts where he wants to be at the finish.
"When that final race at Valencia is over I want to have finished at least in fifth place in the world championship and have in my pocket a new contract for the next two years. I'm not kidding myself it's going to be mighty tough. I know better than anybody I have to finish the top satellite bike beating the likes of World Champions Bradl and Bautista to have any chance of a factory ride next year."