MotoE™ riders get ready for Round 2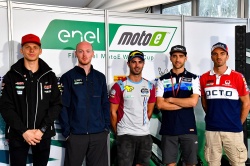 Posted on Aug 08, 2019 by MotoGP™
Roll up, roll up - it's time for Round 2! The FIM Enel MotoE™ World Cup gets back on track this weekend at the myWorld Motorrad Grand Prix von Österreich, and on Thursday it was Talk Show time for points leader Niki Tuuli (Ajo MotoE), Bradley Smith (One Energy Racing), Mike Di Meglio (EG 0,0 Marc VDS), Matteo Ferrari (Trentino Gresini MotoE) and Alex De Angelis (Octo Pramac MotoE).
Tuuli was first to talk, measured but optimistic ahead of another 25 points in play. "Like I always say, we've been in the top three in almost every session this year and we'll try to continue like this and consistently be in the top three in every session, and also in qualifying we'll try to do as we did last time. That's our plan, so we try to continue like this. This first weekend was really good for us, we have good pace for the bike and with this bike, I don't think the changes are such a big difference and I think we have good pace for every weekend, I feel really good on the bike and that's the main thing.
"I think this track will be a bit more difficult for me, there are many hard braking points and that's where I don't feel I was really good at Sachsenring. I think other riders in the top group were better than me in the braking zones. But we're not so far on the brakes, and it will be a different weekend with the track so different, but there are also fast corners, which is where I feel good. But we'll see, we need to find a compromise between braking and the fast corners. We'll see but I hope we'll be in the top three in the first session."
Next up was Smith, who is eager to get going again - and he's another with experience of the venue. But he thinks it'll be a tough race, even over six laps. "It's nice to keep the momentum going, a lot of guys have been riding - some in Suzuka, some in the CEV, so it's just getting back on the bike and getting things going.
"The layout of this track is definitely going to be tricky, I'm not sure so much in the Free Practice and qualifying but in the race situation considering the nature of the track with slipstream, I think gearing could be crucial this weekend, finding the right balance there, but in general I'm looking forward to getting back out there, Michelin have introduced the slightly harder rear tyre option for this weekend which I slightly preferred from the test so it'll be interesting to see how that plays out this weekend."
Di Meglio spoke next and the Frenchman agreed with Smith; the characteristics of the Red Bull Ring making for an interesting challenge...
"Here will be a hard race because there a lot of hard braking, and I think for the first lap and during the race there will be a lot of fighting. In Sachsenring I felt good in the hard braking, but a little slower than Niki in the fast corners. So we have to see because each track is different, and we have to see how the grip will be at this track. But we need to be in the front and push practice by practice.
"I don't think it's a very complicated track, many riders come here to train to understand the track but after a few laps they understand where to go, it's stop and go. It's not like Sachsenring where you have to focus on where to put the wheel. But we have to focus practice by practice and see if some new rider arrives at the top."
Matteo Ferrari, meanwhile, is aiming to move a little further forward, and is happy about the new FP3 session added to the agenda in Austria. He's done a few testing laps but no racing at the Red Bull Ring, so he's looking to learn from those ahead of him.
"During the test we improved a lot in Valencia and during the race in Germany. I'm happy about that because the gap to the front group is close. This track is new for me, I've only done two days of testing but it's not a hard track. We'll see. With this bike, every track is different, I have to improve and learn from the guys in the first group!
"It's difficult to say who will be big rivals because every track is different, but of course Niki will be fast, and I hope to start better in the first practice and use FP3. One more practice is better."
De Angelis was the final man on the mic; a man with a wealth of experience of all different classes of racing and machinery. So first, a debrief on his experience so far in MotoE™?
"I have a lot of experience but I couldn't expect how it would be to ride this bike! It's a completely different style and different to what you'd expect at the beginning. But it's still a bike and the winner is the one who goes fastest! So we're trying to understand it, we can't do many things to the bike so the ones going faster now it's because they found the way or because their style is good for the bike. There is something you can find to help you a lot to make a step and that's what we're looking for. So immediately tomorrow we'll try a different setup to what we had in Germany to try and improve and get a perfect style and bike together."
He is, like Ferrari, positive about the addition of FP3, too: "FP3 is really important because I don't know the track. I came here a few weeks ago with a road bike to understand the track but of course it's not enough because the E-bike is completely different. So we can really use FP3 to improve, because tomorrow morning in FP1 we'll lose to learning the track and understanding the bike. So to have another session and have chance to improve the session is really important for us."
Free Practice begins on Friday in Austria, and then tune in for the E-Pole session on Saturday on 16:00 (GMT +2). Who will start where for Round 2 and how will the Red Bull Ring shake up the order? On Sunday morning at 10:00 we'll see some more answers and another stunning FIM Enel MotoE™ World Cup race.