MotoGP riders and team happy with progress made at IRTA test on Phillip Island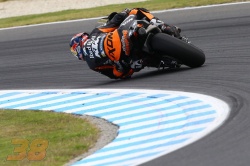 Posted on Feb 18, 2017 by Red Bull KTM Factory Racing
Red Bull KTM MotoGP Factory Racing on Friday wrapped up three days of official IRTA tests at Australia's Phillip Island circuit, which allowed the team to further advance in their development program ahead of their debut in the premiere class of the MotoGP World Championship.
The team came away satisfied that they had made solid progress after three long days and nights of intensive work, both on and off the track in preparation for the first season in MotoGP. It was also the factory team's first visit to Phillip Island and a chance to test in very different track conditions to what they have experienced on other circuits. Senior team officials and the two factory riders, Pol Espargaro (ESP) and Bradley Smith (GBR) all confirmed they had been able to further advance the development program with the KTM RC16 MotoGP bike.

Mike Leitner (Team Manager MotoGP):
"I'm quite happy because at the end of these three days our riders put in good lap times. This is really promising because the start here is very special and unique, so it isn't easy to come here and put in good lap times. We did a lot of test and setup work, and the team did a great job. They pushed hard and put in long nights. Also a big compliment to all the people back in the factory. They're working hard on all the material that we're testing. We have to keep pushing because it will still be a long way for us to get to a very good level. But both riders are working well, and we're going in the right direction."

Wednesday saw temperatures of around 30 degrees Celsius, with the track registering about 40 degrees, and a strong wind. Bradley Smith tested a new front fairing on the first day and gave the team positive feedback.
Temperatures dropped by 10 degrees on the second day, and there was also a little bit less wind. Both riders resumed testing a variety of options and provided good feedback to the team. Smith also said it had been important to test at Phillip Island because of the different character of the track.

Bradley Smith (Factory Rider MotoGP):
"It helped us to understand our complete package. As far as the electronics go, it's important to have a good balance here because of the long corners and the hard drive areas. I'm generally pleased with the improvements. On days one and two the lap times were not what I expected, but by the end, I felt a lot more comfortable. I was pleased to do a +1.429 at the end of the session. That was 1.4 off, and about what we would expect. We'll still work on the electronics, and the drive area because the acceleration phase is so important in MotoGP, and we're always looking for a bit more."

The third day saw similar conditions to day two and both Smith and Espargaro improved their lap times right at the end of the day. Smith was 19th overall on the combined sheets, and like Espargaro, clocked his best time on his final lap, his 73rd for the day.

Sebastian Risse (Technical Director MotoGP):
"Once more we saw how we could develop when we come to a new track. We tried a lot of new things, mainly on the chassis and the electronics, and with a lot of success. I think that when it finally comes to putting down lap times, the riders are very happy. Both pushed hard, and we can be pleased with these results. We can also see the progress in the pace, and when it comes down to it, we can put in a good lap time. We have quite a good picture of what is still missing, and we'll try to work on this as much as possible between now and the next test."

After the official team presentation next Monday in the new KTM Motorsport Building in Munderfing, Austria, the Red Bull KTM Factory Racing team heads towards Losail International Circuit in Qatar for the final MotoGP IRTA Test starting on March 10, 2017, before the season really kicks off at the same venue two weeks later.


Combined Results MotoGP IRTA Test Phillip Island 2017
1. Maverick Vinales (ESP), Yamaha, 1:28.549 min (245 laps)
2. Marc Marquez (ESP), Honda, +0.294 sec (271)
3. Dani Pedrosa (ESP), Honda, +0.484 (160)
4. Jonas Folger (GER), Yamaha, +0.493 (190)
5. Cal Crutchlow (GBR), Honda, +0.552 (226)
17. Pol Espargaro (ESP), KTM, +1.308 (180)
19. Bradley Smith (GBR), KTM, +1.429 (211)

Red Bull KTM MotoGP Team Presentation 2017
February 20, KTM Motorsport Building (AUT)