New components and less weight for MotoE™ in 2022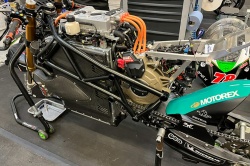 Posted on Mar 08, 2022 by George Penny
Energica brought to the test of the MotoE in Jerez some important innovations to reduce the weight of the bike by 15kg; the main ones are the new motor and the inverter. In this post we make a first analysis of these two new components.
The weight of the MotoE has always been her Achilles heel and is the aspect that was immediately identified as the one to work on by Dorna and Energica. Introducing technical innovations in a new category is not easy, even more if a pandemic ends up in the middle. This is how the new engine for the MotoE, already ready to be mounted on the Ego Corsa last year, had to wait a year for the first laps on track.

The first feature of this engine is its weight, 10kg less than the previous model. Some weight was also gained by the new inverter thus bringing the MotoE 2022 to 247kg, about 15kg less than the previous model.

The advantages of the new engine are not only measured in lower weight but also in a different distribution of masses, less inertia and better handling, giving a completely new riding feeling to the bike.
Full article on https://www.epaddock.it