Points for KTM MotoGP at Jerez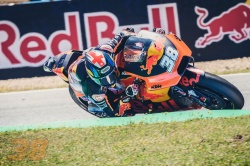 Posted on May 07, 2017 by Red Bull KTM Factory Racing
In a weekend when KTM won their third Supercross title in the United States, things were a little harder in the Spanish MotoGP at Jerez today, but a great deal of progress has been made technically with the Red Bull KTM Factory Racing RC16 over the Grand Prix weekend as the European part of the MotoGP season kicked off.
Following a successful MotoGP test six days ago at Le Mans in France, the Red Bull KTM MotoGP Factory team had new engines delivered from KTM's Austrian base for the Jerez GP, taking Bradley Smith to 14th come the chequered flag in Sunday's Spanish MotoGP race. His Spanish team mate Pol Espargaro made a brilliant start off the line on the KTM RC16 to be 11th before an unlucky crash took him out of the race. It was a fast crash, but he was OK and returned to the garage unhurt. The race took place in front of 69,000 fans that included the former King of Spain. A total of 129,890 fans attended the race track over three days.


Bradley Smith (Factory Rider MotoGP):
"It's been solid weekend for us as from Friday we made a good start in both the damp and dry conditions, but added to that was a positive Saturday with a great time in the morning that nearly got us through to Q2. Qualifying was solid but it was tricky in the race today as we'd never run with these kind of track temperatures with a hard front tyre, so it's still a learning process. With hindsight, we could have changed some things but that's what we learn as a team with this project...but what a step forward from the first three races and a great step to again look forward to at the next race at Le Mans. We have a chance to test tomorrow and get some more data under our belt so that's great."

Mike Leitner (Team Manager MotoGP):
"This weekend has been very positive for us. All the effort from the company for us to utilise this new engine is proof of the hard work from everyone at the factory. We showed clearly during the practice sessions this was a good move and this gave us confidence and strength for the race. At the start of the race it was tricky; the conditions were windy but Pol was in a good position to fight, but he maybe over- pushed a little, but this is racing and I have full respect for this. Bradley scored two points with a good race. We should be happy to score these points here taking the positive because a crash can happen to anyone during a race weekend."

Next Race: May 21, 2017 – Le Mans (FRA)