Points for Smith at Red Bull Ring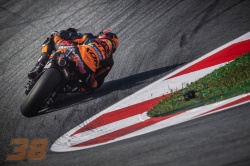 Posted on Aug 12, 2018 by Red Bull KTM Factory Racing
Round eleven of nineteen in 2018 MotoGP saw the series land at one of the most picturesque and fastest circuits on the calendar: the Red Bull Ring, Spielberg. Red Bull KTM's second home Grand Prix since they joined the MotoGP grid (and just three years since the factory's objectives for the premier class were announced at the same venue) meant a busy schedule and the luxury of large and vocal home support.
The team were down to one-rider representation after Pol Espargaro's unfortunate crash and collarbone injury the previous weekend in the Czech Republic. Bradley Smith showed moments of shrewd set-up work and keen competitiveness across the three days. The Brit almost squeezed into Q2 for the first time in 2018 on Saturday and then clocked the sixth fastest lap-time in warm-up this morning.
Smith made his customary bright start at the beginning of the 28-lap dash and then settled into a chase with the likes of Alvaro Bautista, 2017 victor Andrea Iannone and Aleix Espargaro. At the finish line #38 gathered two world championship points for 14th.

Bradley Smith (Factory Rider MotoGP):
"The nice thing is that we are learning more and more about the bike and made more improvements in the morning. The warm-up was a lot of fun and in cool track conditions the grip level was high and I could get the maximum out of the bike, and in Qualifying we have been able to extract better performance; which is something I have been focussing on. I knew the race would be a bit of a struggle because the bike has its strengths but when the track gets greasy then this is where we see some weaknesses. I qualified 13th and finished 14th and this is where we expected to be. We finished ahead of some good riders on good bikes and I don't think we can ask for much more. We pretty much defeated nearly all the satellite riders. I felt I made a perfect race and there was not much else I could have done. The team did a great job setting up the bike and 14th was our position today."

Mike Leitner (Team Manager):
"We knew it would be difficult here after Brno. With just one rider you cannot do things like split strategies and look at tyres. We were limited but Bradley did a very solid job. Last year's winner was just in front of him today. He felt strong after warm-up but missed a bit of rear grip in corner entry during the race and this stopped him setting the same rhythm as he did in the morning but, overall, it was a good weekend. We hope we can continue our journey in Silverstone with two riders again. I think it was a great Grand Prix for KTM with the Moto3 result and the fantastic race in Moto2. I think the team could see the big level of support in Austria and how many people are interested in our project. This gives us extra confidence and power to deliver more results in the future."

Next Race: August 26, 2018 – Silverstone (GBR)