Positive Sepang test concludes for Monster Yamaha Tech3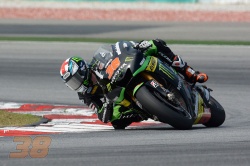 Posted on Feb 06, 2014 by Monster Yamaha Tech 3
Monster Yamaha Tech3 rider Bradley Smith made further improvements at the Sepang International circuit as the first test for the forthcoming 2014 MotoGP World Championship drew to a close.
The three day test at the 5.543km circuit, 50kms south of Kuala Lumpur had perfect conditions for all three days. This allowed the Monster Yamaha Tech3 riders to ride uninterrupted, in order to prepare for the 2014 MotoGP world championship season which begins under the floodlights at the Losail circuit in Qatar, on the 23rd of March.
Young British rider Bradley Smith completed the first test of the season in a positive manner, by exploring different set ups on the Yamaha YZR-M1 MotoGP bike in preparation for his second full time season in MotoGP.
Smith experimented especially with full fuel loads, new Bridgestone tyres and long distance runs in today's session with his Monster Yamaha Tech3 Team, and undertook 65 laps. He finished today with a best lap time of 2.00,896 min which puts him into 11th position but his time from yesterday ensures Smith an 8th place on the combined classification.
The next test session will commence on the 26th until the 28th of February at the Sepang International circuit, Malaysia.
Bradley Smith –8th - 2.00,603:
"We did some really good work, today we were concentrating on the new Bridgestone tyres. I tried to gain as much information and data also doing a half race simulation at the end of the day with this new tyre, just to compare it with the one from last year. Yesterday's simulation was quite similar to today, although I believe we can still improve with this new tyre. I think I've done nearly 180 laps this test and we know where we need to start at Sepang 2. All in all I am pleased, even if the position on the timesheet does not seem to be ideal, it was never my main aim to set fast lap times during these three days. We are looking at the big picture, and preparing for the Championship and we will try to be ready for Qatar."

Hervé Poncharal – Team Manager:
"These three days have been a positive start for the Monster Yamaha Tech3 Team and the whole Championship I think. The timesheet clearly shows that we will see a lot of exciting races in 2014 and that the development of our MotoGP class is heading in the right direction. I'm happy with the approach and the results of Bradley and Pol, who both worked concentrated on being prepared for a long year. Bradley focused on improving his feeling on the full fuel load and did several race simulations, as due to the rule changes, the reduced fuel maximum for MotoGP bikes might be important at several tracks. The team will be back in Sepang for another test at the end of the month but I'm sure that after what we have seen during these days, we can look confident towards this 2014 season."