Premature conclusion to Qatar test as rain halts Tech3 riders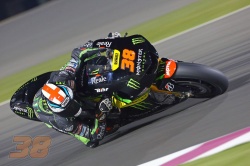 Posted on Mar 16, 2015 by Monster Yamaha Tech 3
The Monster Yamaha Tech3 Team riders did not ride in the final day of pre season action due to a sudden downpour in Qatar. It was not possible for any rider to take their bikes out on the track due to the rain which caused a reflection of the lights on the asphalt. With no rain tyres available either, the circuit did not dry in time and hence, no riders opted to run.
Despite this, the test was overall positive for Bradley Smith, who concluded the final pre season outing in 8th position with a best time of 1'55.648, that was under two tenths of a second off 4th place. The 23 year old rider made further progress with the setup of his Yamaha YZR-M1 which had an encouraging outcome after undertaking 92 laps around the Losail International circuit. The result leaves Smith fully motivated for a flying start to the MotoGP season at Qatar on the 29th March where he will intend to begin his 2015 campaign with a strong points scoring finish.

Bradley Smith: - Position: 8th - Time: 1'55.648 - Laps: 92
"It's unfortunate that the rain has stopped the final day of testing, but honestly, we have already completed a race simulation in Sepang so it's not a huge loss. I also did one here last year in the test so we have the information we need. In addition, we did a lot of long runs on the same tyre and know how the compound behaves after a lot of laps. The lap times are close so the first race will be interesting and I'm truly happy with what we have achieved. The bike is working really well at the moment and we have two or three ideas that we will try in ten days when we return here. If we can run high 1'55 laps in the race then we are where we want to be. So at the moment, we need to find about 0.3 each lap, then we will be happy. I've really enjoyed the preseason this year, ridden a lot of laps and tried a lot of things but now the nice part of the year starts where you can score points! The competition is back on and it will be a good one."