Red Bull KTM concludes successful MotoGP rookie season with final test at Jerez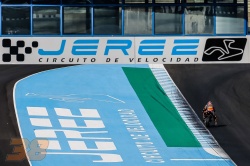 Posted on Nov 25, 2017 by Red Bull KTM Factory Racing
The 2017 season for the Red Bull KTM MotoGP Factory Racing Team came to a close yesterday at Jerez private test with both Pol Espargaro and Bradley Smith completing all three days under perfect sunshine and track conditions. The team had also completed a two day test immediately after the Valencia Grand Prix ten days ago.
The aim of both tests was to establish a clear direction with regards to swingarm, rear shock absorber settings and chassis specification for the 2018 KTM RC16, something that has been on going throughout the 2017 season but these tests giving the crews the chance to utilise the valuable seven hours each day that's available to them.
The conditions were perfect for testing with sunshine creating an air temperature of plus 20 degrees celcius resulting in Pol Espargaro completing 167 laps and Bradley Smith 142 laps at Jerez this week meaning that 1,366kms were covered over the three days – a distance that is from Silverstone in the UK back to KTM Motorsport in Austria!
Regarding overall lap times, it's difficult to compare the Grand Prix weekend with the winter test times, however Espargaro's best was faster than this year's pole position for the Spanish Grand Prix.

Bradley Smith (Factory Rider MotoGP):
"It's been what I needed to get from the test – to focus on the rear end of the bike in order to get more grip in the second half of a race and not to lose tyre performance – that was my main target at Valencia and here in Jerez as over the last few races I've been strong early on but then tailed away. I feel that we made some important steps long term so the absolute lap time hasn't been the focus as we've concentrated on rear shock settings and swingarms over these five days to confirm which direction to go in the future. Obviously the two race tracks are very different so that has built up a depth of data but the good thing about Jerez is that there are fast and slow corners plus hard braking with fast flowing sweepers so we're getting an idea of what's working and what isn't. So yeah, we made some improvements and steps forward, plus my riding is coming along too which I'm happy about. I would've loved to have the bike I have now in Philip Island but that's the progression of the KTM! A second off the front is a little bit too much for me bit it's acceptable at this time of year with the plan we have."

Mike Leitner (Team Manager MotoGP):
"I think the season finally shows that KTM have made the right decision to go into MotoGP. We have been the rookies this year starting at Qatar but it was impressive for me to see how the dynamic in the team was created through the season from both sides of the garage. The factory has put huge effort and power in designing and bringing new parts to the track for the riders, and then the riders striving for the results with those parts; this shows me that the team spirit is very strong in KTM and I think everyone can be proud and happy about this first season. Now, after these two good tests in Valencia and Jerez it was so positive to finish the season this way because it gives us the opportunity to check parts as well as try new ones so now everyone can go home as a long season like this is exhausting for all. However, the riders are in great spirit so both Pol and Bradley can go to the break healthy and prepare for 2018 as well as the mechanics and technicians too go into winter with a good feeling able to recharge before the new season that will start testing in Sepang."

Sebastian Risse (Technical Director MotoGP):
"We did not have a 2018 bike here but instead we decided to work on individual components and make decisions based on how they preformed so now we have time to put everything together and then in Sepang (test) have the best possible package. If you look at what we have achieved during these two tests I would say the main thing has been consistency and to be able to push with new and used tyres in order to make the whole bike better because this is what you may miss when you do multiple steps during development. Now we have found some parts that make this package so much better. Looking at lap times against competitors we're obviously happy with where we are and what we've achieved over the season so it's good to have a break now to think about everything and put the 2018 bike together. A good end to a really good year."

The entire Red Bull KTM MotoGP race and test team will reconvene in mid December at KTM's Motorsport base in Austria when they build the 2018 MotoGP motorcycle.