Red Bull KTM hunting for speed after seventh row qualification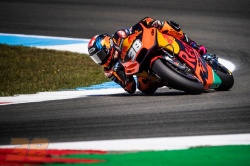 Posted on Jun 30, 2018 by Red Bull KTM Factory Racing
In warm, sunny and breezy conditions at the TT Circuit Assen Red Bull KTM set lap-times close to the top ten through the Free Practice sessions on Saturday but will line-up for the Motul TT Assen with Bradley Smith and Pol Espargaro on the seventh row of the grid.
The kinks and curves of the historic layout in the north of the Netherlands – now 70 years as part of the grand prix series – again reverberated to the howl of MotoGP but for Red Bull KTM the DutchGP meant just a second visit to the iconic circuit.
Bradley Smith – a rider who first competed at Assen back in 2006 – concentrated on optimum set-up for the RC16 and will sit just one position ahead of his teammate for Sunday's 26 lap sprint. Both riders were less than 1.5 seconds from Marc Marquez Pole Position effort.

Bradley Smith (Factory Rider MotoGP):
"We made another good step today and found another half a second and almost managed a 1min 33. We did our job and we are improving. We made some good lap-times but everybody's level just keeps getting higher. The overall result might look like a bad day but we are only 1.3 from first so it is our 'normal' gap. It will be a long race tomorrow, and a physical one in these temperatures and with the tyre 'drop'. We have to focus, be smooth and fast and bring home some points."

Sebastian Risse (Technical Director MotoGP):
"Overall we had some bright moments today. P11 in FP3 was a great thing and also a bad thing at the same time! We struggled here after having a good test and having brought some new things to Assen. I think we have been focussing on improving the bike and that means we have missed some of the fine-tuning necessary at the races. The work is for the benefit (long term) of the project but at the moment, looking at the results, it hurts. I hope we can turn things around tomorrow and looking at race pace I think the situation is a bit different. It is very tight, everybody is pushing but anything is possible. It might not be our highlight of the season here but we'll do what we can and then look towards the next race."

Races: July 1, 2018 – Moto3 11:00 | Moto2 12:20 | MotoGP 14:00 | Red Bull MotoGP Rookies Cup 15:30 CET