Show your support for Bradley - BS38 Sticker Sheets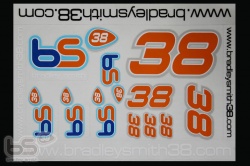 Posted on Apr 10, 2012 by George Penny
Now the 2012 Moto2 Season is well under way, what better way to show your support for Bradley by purchasing a BS38 Sticker Sheet.
After consulting fans on the Bradley Smith (Official) Facebook page we've decided to go ahead with a limited edition run of stickers, hoping we can sell out and produce more BS38 merchandise in the future. BS38 window stickers seem a popular request, so lets make it happen!
The sticker sheets are A5 in size printed in 6 colours, with a petrol resistant varnish and kiss-cut into individual stickers. Featuring Bradley's Logo/Number and Website at various sizes that could be used for many different applications.
Stick on your motorcycle helmet, bike, phone, laptop case, etc, etc so you can show your support!
Stickers produced and distributed by Bradley's Webmaster, so any Paypal payments will be displayed under the name of 'George Penny'
Price includes 1st Class delivery to the UK. Proof of postage will be obtained from Royal Mail.
If you wish to pay by cheque or order from overseas, please email for further details.
Click here to go to the BS38 Shop.