Smith aims for Mugello podium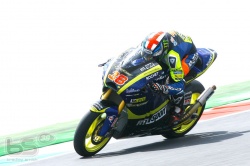 Posted on Jul 14, 2012 by Tech3 Racing
Tech 3 Racing Team rider Bradley Smith goes into tomorrow's Gran Premio d'Italia TIM Moto2 race with his sights fixed firmly on a second successive podium finish at the fast and technical Mugello circuit.
Fourth fastest on the Mistral 610 machine in practice, Smith was looking a strong contender to register his second top five qualifying result of 2012 in scorching hot conditions this afternoon.
The British rider was attacking hard on his final lap to improve on his best lap of 1.53.029 when he suffered a crash at the second corner. Smith is confident he could have qualified on the second row because his best lap time was just over 0.2s away from the front row. But the 21-lap race will get underway with Smith's Mistral 610 machine sat in seventh position.
Last season Smith produced arguably his best performance in the ultra-competitive Moto2 category when he battled for victory in a thrilling tussle with Marc Marquez and Stefan Bradl. The 21-year-old is confident he can battle for his first podium of 2012 to help consolidate his place inside the top seven in the World Championship rankings.
Bradley Smith 7th 1.53.029 – 16 laps:
"Firstly I need to apologise to the Team for the crash on the last lap but unfortunately that can happen when you are pushing for a fast lap time in qualifying. Practice was very positive for us finishing fourth and this afternoon again I felt quite good, so I am very optimistic for tomorrow. At the end of the session I was trying to pick up some tenths and get on the second row at least but I lost the front at the second corner. Seventh on the grid is still not bad and as always it will be important to get a good start to try and get away with the leading group. It will be physically demanding tomorrow with the heat and nature of the circuit making it very tough on the body. All weekend though we have been competitive and I am looking forward to tomorrow. Last year's race was awesome and I'd love to be in another battle like that. It will be difficult but I will be giving it my all."