Smith builds experience on Bridgestone tyres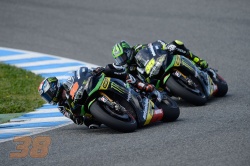 Posted on Mar 25, 2013 by Monster Yamaha Tech 3
This morning's rain and the short window to test on a dry track this afternoon gave Bradley Smith another opportunity to build up his experience on Bridgestone's wet and slick tyres.
Smith completed 25 laps in the wet and then spent a large part of the day waiting for the surface to dry to further work on his riding style and YZR-M1 settings on a dry track.
He completed an additional 31-laps on slick rubber and after setting a best time of 1.41.398 in the dry yesterday, he was able to improve his pace to a 1.41.134. That encouraging pace moved him one place up the rankings from 12th to 11th and on the combined leaderboard he finished 13th.
After a positive pre-season Smith is confident that he can be fighting for a top 10 finish on his much anticipated MotoGP debut at the Losail International Circuit in Doha.
Bradley Smith 13th 1.41.134 – 56 laps:
"The really important aspect of today was that I did eventually get some dry time on track. I was reasonably happy with my performance in the wet because it is all about building my experience of the bike and tyres in those conditions. But I was really happy the track dried because I badly need seat time and the weather has definitely not helped my preparations. I'm still searching for a base setting but we have it clear the direction we need to move in with the bike and that's to move away from what Andrea Dovizioso used and make the bike more like how Cal has his. I'm gradually getting more comfortable and at this test I've followed Cal, Jorge and Valentino to get a really understanding of how the Yamaha needs to be ridden. Now I'm really looking forward to going to Qatar. I'd have preferred to have done a few more dry laps in testing but I am confident and optimistic that I can start the season with a strong result."