Smith collects points in rain-affected Jerez race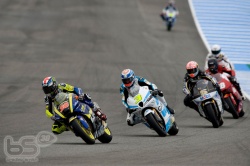 Posted on Apr 29, 2012 by Tech3 Racing
Tech 3 Racing Team rider Bradley Smith collected valuable World Championship points in a Spanish Moto2 Grand Prix cut short by rain showers this afternoon.
Smith was in contention for a top 10 position when rain began falling shortly after the halfway stage of another absorbing Moto2 encounter.
The race started under heavy cloud cover with damp patches still scattered around the Circuito de Jerez from earlier cloudbursts, but Smith quickly adapted to the tricky conditions to battle his way into contention for a top 10 finish.
Smith was producing another trademark display of aggressive riding to close down Johann Zarco and former Moto2 World Champion Toni Elias battling for ninth when rain spots started to fall on lap 15 of 26.
As conditions worsened, race officials were left with no option but to red flag the race seconds after leader Marc Marquez had started the 19th lap.
The result was declared from the standings at the end of lap 17, which left British rider Smith in 11th and just 0.7s away from the top 10.
Bradley Smith 11th – 12 points:
"I'm reasonably happy to have scored some points because I knew that starting from 19th on the grid it was going to a tricky race. We made some big changes to the bike compared to yesterday and the modifications seemed to work and that should help me be closer to the front in the next few races. It has not been an easy weekend with the weather playing a major part, so to come away with 11th place is still a really good result and a decent reward for my Tech 3 crew, who have worked tirelessly all weekend to give me a competitive bike. I think we have definitely found a direction with the set-up of the Mistral 610 and now I am heading to Estoril later this week much more confident and expecting to be back competing for the top six, which is where we need to be."

Herve Poncharal – Team Manager:
"That was a very difficult race for everybody because the conditions were so unpredictable. Bradley got a good start and recovered a few places in the early part of the race to make it an interesting battle for the top 10. There was a lot of overtaking but it was inevitable the rain would play some part in proceedings. Bradley actually looked like one of the most confident when some rain drops started to fall but the race was red-flagged when he was looking really strong. He was in the top 10 when the red flags came out but as the result was declared from the end of lap 17, it means he dropped back to 11th. We can't be too excited to finish 11th but it is a good result considering the starting positions. Bradley was less than 10 seconds behind the winner so that gives us reason to be very optimistic and confident for the forthcoming races. We believe we have a good bike, so hopefully we can show it in Estoril later this week."