Smith concludes first half of 2015 with another top six finish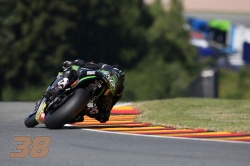 Posted on Jul 12, 2015 by Monster Yamaha Tech 3
Monster Yamaha Tech3 Team rider Bradley Smith guided his Yamaha YZR-M1 to another superb 6th position at the GoPro Motorrad Grand Prix Deutschland in front of a crowd of more than 211,000 people. The young British rider began the race from the rear of the third row and leapt forward as the lights turned to green to close the first lap in 7th place.
He brilliantly overhauled Yonny Hernandez on the 7th lap to claim 6th and then set into his fast race pace whilst trying to force a gap between himself and the chasing Cal Crutchlow. Smith's consistency and rapid rhythm saw him open up a considerable distance to his championship rival and ultimately, he crossed the finish line with over six and a half seconds to Crutchlow. This marks the British rider equalling Andrea Dovizioso in 5th place in the championship with 87 points and also sees him as the victor in the satellite battle in Germany. Before enjoying his well deserved summer break, Bradley now heads to Japan to compete in the legendary Suzuka 8 Hour race with his teammate in a fortnight.

Bradley Smith: – Position: 6th – Championship: 6th – Points: 87
"I am pleased with today's performance, especially as it was a tricky race where I had to give it 100% but also remain smooth which is what you need to do with the Yamaha. We are the top satellite bike again and at the end of the 30 lap race, we had a strong advantage over both Cal and my teammate which is really positive. At the same time, I can't help but be a little bit disappointed as I had a similar pace to Iannone but I wasn't able to catch him because I lost a lot of time with Hernandez in the beginning of the race. It's my own fault as I qualified in 9th so this is an area I need to improve in the second half of the season because I know we can fight inside the top five. In addition, I couldn't put my left leg down at the end of the race as I had completely worn down my knee slider, which was a bit scary around here as there are so many left turns. Nevertheless, we are joint 5th in the championship and it's been a great first half of the year. I am going to Japan tomorrow for another Suzuka 8 hour test, so I have the long haul flight to relax on after this race! A big thanks to all my team, they've given me a great bike at every race so far in 2015 and I hope they enjoy the three week break as much as me."
Hervé Poncharal - Team Manager:
"It was a strong team result again today and a good way to finish the first half of the season before the summer break. Everyone in the Monster Yamaha Tech3 Team has worked really hard during these months, so I must thank them all for being involved and for pushing 100%. Furthermore, today the riders gave the team a big reward for their efforts. Brad and Pol are 6th and 9th in the championship respectively and we, as a team are in 4th which marks a positive opening half of the year by both riders. Bradley showed another dimension today in his fight with Cal and clearly these two riders are the fastest satellite guys. It was a big fight as they come from the same country, have the same background, sponsor as well as having both been Tech3 riders, so of course there is a big rivalry. Brad was smart and showed a lot of determination, especially when opening a gap during the final stage of the race. On the other hand, Pol had a bit of a difficult first part of the race, but came back strongly as he lapped at a similar pace to Bradley and then passed all of the riders in front of him. The best possible finish in this circumstance was 8th which he achieved and he got some really valuable points, plus I also hope the arm was not a problem for him here today. Now the team will go on holiday but the riders are heading to Japan to take part in the Suzuka 8 Hours which is a very important project for Factory Yamaha Japan. We wish them luck and we hope they get some rest on the flight from Germany to Japan. Overall, we are very happy but there is still some room for improvement as we are a racing team and we want to win. However, we have fulfilled our mission for the first part of the year. Thanks to everyone on the team, they all deserve a relaxed holiday."