Smith consistently at work for development of the RS-GP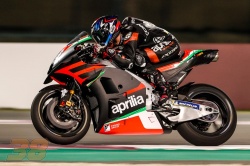 Posted on Feb 25, 2019 by Aprilia Racing Team Gresini
The third day on the track concluded the final tests ahead of the race which, right here on the Qatar circuit, will open the 2019 season. For the Aprilia Racing Team Gresini these were three days of extremely intense work, moving forward according as scheduled by the three teams participating.
Over the three days in Losail, the test team and Bradley Smith were able to complete a significant workload of trials, working both on race pace and on more long-term goals such as chassis settings - including electronics - to then pass on to the factory riders.
It is a nice sign that Bradley also improved his lap times consistently. In fact, of the 35 laps he turned today, his best time was 1'56.072.

BRADLEY SMITH
"I think that the package Aprilia has for the season start is good. These were three days of rather intense tests. I worked both on solutions to use already here in Qatar and on developments focused on the mid to long-term. This latter aspect kept me rather busy. In two weeks I'll be on the track in a wild card slot, but I think that improving the RS-GP over the long term is the most important thing. I kept the guys on the team busy, both with the many changes and with a little crash today, but I have to say that they did a fantastic job."