Smith dazzles in drizzle to claim Mugello front row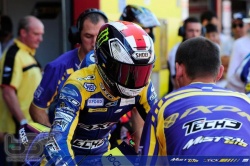 Posted on Jul 02, 2011 by Tech3 Racing
Bradley Smith's phenomenal wet weather riding skills were on display again at the spectacular Mugello circuit in Italy, the British rider storming to a maiden Moto2 front row after a rain-affected qualifying session this afternoon.
With all three practice sessions taking place on a dry track, the Moto2 field saw the weather take a sudden turn for the worse earlier in the afternoon and qualifying commenced on a wet track.
Tech3 Racing rider Smith has shown himself to be something of a rain master in his rookie Moto2 campaign having finished second and third in the recent wet races at Silverstone and Assen. And he was immediately up to speed in tricky conditions, the 20-year-old competing for his first Moto2 pole position throughout the 45-minute session.
Conditions were changing rapidly with a dry line appearing in some parts of the track towards the end of the session and Smith quickly worked out where he could push hard to set the third fastest time. His best lap of 2.06.617 was only bettered by Marc Marquez and Alex de Angelis and Smith is confident he can fight for a third successive podium finish in tomorrow's 21-lap race.
The mixed conditions made it difficult for French rider Mike di Meglio, who faces a tough challenge in tomorrow's race having qualified in 35th position. Unable to find the rear grip he needed to push with more confidence, the former 125cc World Champion set a best time of 2.10.652.
Today's qualifying confirmed the high potential of the Mistral 610 machine with Belgian rider Xavier Simeon finishing in fourth position, just 0.140s behind Smith.

Bradley Smith 3rd 2.06.617 – 18 laps:
"Obviously I am very happy with this result for myself and the Tech3 Racing Team as we have already proven we have great feeling in the wet in the last couple of races. I guess growing up in the UK has helped me in that respect because we have to ride in those conditions a lot. But to be on the front row for the first time considering how difficult the conditions were, I'm really pleased and it has been a positive day. At the end of the session it started to dry and the track felt very greasy and then all of a sudden, the last three laps the grip came again and Andrea (Iannone) and a couple of other guys got behind me. I didn't want to give them a tow on the last lap, so I rolled off. And that was almost a big mistake because they still had two laps on me. Third position is still a great starting pos ition and the first five laps will be very important tomorrow. I need to try and get a really good start and put my head down and try to go as hard as possible. It will be important to try and follow Marquez in the beginning and then we will see what happens."