Smith determined to attack in Estoril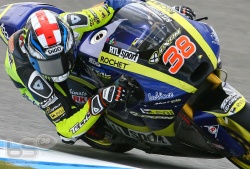 Posted on May 05, 2012 by Tech3 Racing
Tech 3 Racing's Bradley Smith has vowed to launch one of his trademark aggressive performances in tomorrow's Estoril Moto2 race after qualifying in 13th position.
Smith powered his Tech 3 Mistral 610 machine to a best time of 1.41.733 in today's qualifying session, which left him just over 0.2s away from the top six.
Working closely with his dedicated Tech 3 Racing crew, Smith made big progress with improving the front-end set-up of his Mistral 610 machine, but is looking to make further improvements to gain more confidence with rear grip ahead of tomorrow's race.
Bradley Smith 13th 1.41.733 – 22 laps:
"I'm pretty disappointed on one side to be only 13th on the grid but happy on another because I have been competitive all weekend and at least I am starting higher up than the 19th place I qualified in Jerez last week. I am quite confident for the race tomorrow because I feel really happy with the front-end of the bike. We have go t that working very well but I would like to be a bit happier with the rear. We've got some ideas for the race tomorrow so I am looking forward to seeing whether the changes we'll try in the Warm-up session help. Each time I pushed to improve my time this afternoon I got a bit held up in different parts of the track. If we put my ideal times together I'd have been much faster and that's why I'm so optimistic of a strong race tomorrow."