Smith engaged in a thrilling battle at Motegi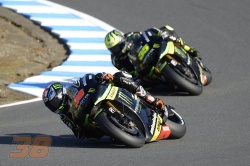 Posted on Oct 27, 2013 by Monster Yamaha Tech 3
With only 45 minutes of dry track time available on a weather-hit weekend at the Twin Ring Motegi ahead of this afternoon's 24-lap race, Smith engaged in a thrilling battle in the first half of the race with team mate Crutchlow.
In easily the best conditions of the weekend, it was Smith who led the Monster Yamaha Tech 3 charge after he made another one of his super fast reactions off the line to rocket from 13th on the grid into the top six.

Smith opted to race the extra soft compound Bridgestone rear tyre to boost his speed in the early laps and it was a strategy the paid off handsomely, as he hunted down Stefan Bradl for a place in the top five.
A mistake by Valentino Rossi in the hard braking zone for Turn 11 on lap three elevated Smith into the top five and he then rode magnificently to keep hard charging Crutchlow at bay until lap nine.
Smith's brilliant ride to eighth saw him take a giant leap towards securing 10th in the overall World Championship standings, now he is 19-points clear of Aleix Espargaro.
Smith's impressive rookie season is certainly finishing strongly, with the 22-year-old claiming six top 10 finishes in the last seven races and he finished just over three seconds behind Crutchlow this afternoon.
After a gruelling three-week world tour to Malaysia, Australia and Japan, the Monster Yamaha Tech 3 Team now heads back to Europe for a well-deserved rest ahead of the final race in Valencia on November 10.

Bradley Smith - 8th - 107 points:
"I'm pleased with the eighth position. I knew it would be been a tricky race starting from 13th, but fortunately I made a good start and I was trying to push at my maximum right from the off so that I was able to follow Bradl during the first laps. We definitely made some improvements on a full fuel load during this weekend and it helped me a lot to find a good rhythm. I saw Valentino making a mistake at the beginning of the race, so I knew he might come back and I just tried to follow him when he passed me. Today was probably the smallest gap to the other satellite riders so far and that makes me happy, especially considering that we had just one dry session this morning to set the bike up. I'm pleased with the progress we made during the season and this 10th place seems to be safe and now I'm just looking forward to make a good race in Valencia to end the Championship on a high."
Herve Poncharal – Team Manager:
"We knew from the beginning that today was going to be a tough race because our grid positions were far from ideal. So to finish seventh and eighth is still a satisfying result and shows once again the determination and the passion our guys put into this sport. Both Cal and Bradley started well, Bradley was slightly better as he managed to pass Cal as well and their pace was fast and consistent, even if we had to admit that the top three guys were riding on other level today. I believe the soft rear tyre was the right choice today, also considering what Lorenzo did, and it was really hard for Cal to catch Bradley. I think he managed it more because of experience than for a faster speed. Both of them did a good job and we are already looking forward to the next round in Valencia. I must also congratulate Jorge on another fantastic victory, which keeps him firmly in contention for the Championship and it was also a memorable day for Yamaha with their 200th win in MotoGP. That is a stunning achievement and I am really proud to be part of the Yamaha family."