Smith fights back for podium in Austria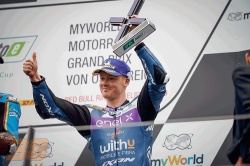 Posted on Aug 12, 2019 by One Energy Racing
Bradley Smith took a second consecutive podium in the MotoE World Cup at the Red Bull Ring, crossing the line in third place in a tricky wet race. With this result, the ONE Energy Racing rider remains in second position in the overall standings and remains a candidate for the title.
Smith started from the front row of the grid, in third position, as the race was declared wet and reduced to five laps. The Briton made a good start, but a mistake on the first lap forced him to go back down to eighth place. However, the ONE Energy Racing rider pushed hard to regain places lap after lap, to take the chequered flag in third.
This result represents Smith's second consecutive podium in the competition, and he keeps second position in the championship - 5 points behind the leader.
The next MotoE World Cup round will take place at the San Marino GP from September 13th to 14th, with two races in a single weekend.

Matteo Ballarin – Team Principal
"We are very happy with this result. It was a very tough race; at the midway point Bradley [Smith] was down in eighth position, but in just two and a half laps he was able to recover and get back to third. Today was the first wet race for the MotoE World Cup, and we saw that being consistent is very important in such a short season. Bradley was very confident on the bike, and that is also important. I'm very happy, as he had a great performance today. It has certainly been a great birthday gift for me!"

Bradley Smith:
"After a tricky start, we were able to limit the damage. I went wide on the descent on the first lap and riding during the initial stages of the race was tough because of the conditions. When the track started to dry a little, I regained my good feeling and I fought back to finish on the podium. These are the days that make a difference at the end of the season in Valencia. These points that I have earned today are very important, as it would have been easy to stay in the top five and not take a risk, but I had to finish as far as possible so as to not get too far behind in the overall standings. Thank you very much to the team for their great work this weekend; we are satisfied with what we have done."