Smith in the points at Malaysian Gran Prix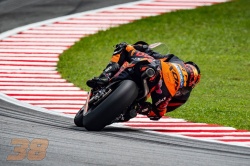 Posted on Nov 04, 2018 by Red Bull KTM Factory Racing
The tricky climate and technical prospect of the Sepang International Circuit created another unpredictable and challenging Grand Prix of Malaysia for what was the penultimate fixture on the 2018 calendar and the third race in a week. Red Bull KTM returned to the site of their opening test of the year and a term in which they have made significant progress in chasing the leading factories and top ten of the premier class grid.
The mix of dry and wet conditions on Saturday meant a sixth row starting berth for both Pol Espargaro and Bradley Smith when the red light closed for the second-to-last race of the season. Thankfully the track was dry and the temperatures were high after a weekend of varying set-up work with the KTM RC16.
Both riders circulated on the border of the top ten in the formative laps as the combination of pace and heat took their toll on the race rubber. Smith battled adversity and maintained a rhythm to classify 15th and obtain points for the fifth Grand Prix in a row; his longest streak of the season. Espargaro unfortunately drifted back and out of contention for tenth position with a technical problem.

Bradley Smith (Factory Rider MotoGP):
"We were lacking performance all race with some technical issues which meant I couldn't set my normal lap-times. I could still finish the race and took a point, which was a positive and there are just five points between Pol and me going into the last race. Five points is difficult to gain but it is still fun to be going into that situation. We worked well all weekend and the guys clearly know what they need to do and what they need to fix. I'm quite excited about Valencia. It will be my last Grand Prix and it is a track I enjoy. We'll go there optimistic and keen to finish this chapter with KTM in a positive way."

Mike Leitner (Team Manager):
"Disappointing today. Pol had good pace in the middle of the race and was going for tenth place but then we had a technical problem and we are still looking into the cause. Bradley got one point and while we cannot be happy with that we know that he gave his best. We'll keep our motivation up for Valencia and look towards our next chapter in 2019. I think moments like these and the difficult first seasons are part of the learning process; it is a challenge, and we chose to be here. In Moto2 and Moto3 we were fighting until the end for the titles but it didn't happen and we'll look at things this winter and see what we can do better for next year."

MotoGP now travels back to Europe and for a week of respite before the traditional season curtain-closer at the Ricardo Tormo Circuit in Valencia, Spain.
Final Race: November 18, 2018 – Comunitat Valenciana - Ricardo Tormo (ESP)