Smith sets sights on top 10 in Australia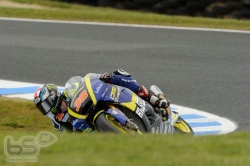 Posted on Oct 27, 2012 by Tech3 Racing
Tech 3 Racing Team rider Bradley Smith will launch his bid for the top 10 in tomorrow's AirAsia Australian Moto2 Grand Prix from 15th on the grid.
Bradley had to battle constantly changing weather conditions at the fast and flowing Phillip Island track, with gusting winds, cold temperatures and rain showers all playing a part in this weekend's action.
Looking to build on a promising 13th position at the end of practice, Smith was just about to commence his attack on soft rubber when he suffered a high-speed fall at Turn 8 on his 11th lap in this afternoon's qualifying session.
The 21-year-old was able to walkaway unhurt in the spill but with his Mistral 610 extensively damaged, Smith was unable to take any further part in a session that was disrupted by a short and sharp rain shower.
Smith's best time of 1.35.169 left him 15th on the grid, but despite missing precious time on track, he was less than 0.5s away from the top seven and he remains confident he can fight for a top six in tomorrow's race.
Bradley Smith 15th 1.35.169 – 10 laps:
"First of all I want to say sorry to my Tech 3 Racing Team because it was an unfortunate mistake on my part. I had just put a new soft tyre in and I saw that it was starting to rain a little bit, but I wanted to do at least one or two laps. The soft tyre would definitely have improved my lap time and my grid position, so I made a mistake and I really feel s orry for it. The positive is that I didn't get hurt because that part of the track is very fast. It is a shame because we have been improving the bike in every session, but it has been a tough weekend. We still have some ideas for tomorrow to try in the warm-up, even if I'm afraid that the front group is not catchable. I believe that a realistic target for tomorrow might be an eighth place but of course I will be aiming for even better. Hopefully we will find some small improvements in the warm up, especially in the last sector where we lose a lot, and that section is really important for the race."