Smith to start from fourth row in round 11 Brno challenge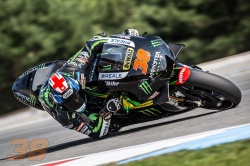 Posted on Aug 20, 2016 by Monster Yamaha Tech 3
Monster Yamaha Tech3 Team rider Bradley Smith will kick off the Czech Republic Grand Prix from 11th on the grid after pushing relentlessly today at the undulating Masaryk circuit. The young Briton started by determinedly battling in FP3 but he just missed out on the cut-off point, which meant that he had to compete in QP1. Here, however, he launched into attack mode immediately and completed the shootout only 0.064 behind the leading time, which confirmed his appearance in Qualifying two. Once this session began, Smith continued where he left off and immediately got on the pace. The British star eventually sped to his personal best on his final lap which left him only 0.606 from Valentino Rossi. Tomorrow, he will aim to leap forward and join the battle for the top independent position.
Bradley Smith: – Position: 11th – Time: 1'56.115 – Laps: 7
"To be perfectly honest, 11th on the grid is not an ideal starting point, but it has been a few races since I've been able to compete in Q2 so therefore I can't be too unhappy. However, I believe we have some more work to do because I feel that we're missing something and we've not improved as much as we would have liked. It seems as though everyone has progressed from yesterday to today, but we only made half a step. The Tech3 guys and I need to find some additional pace for the race tomorrow, and even though I am where I am, I want more from the team and myself. Nevertheless, I am certain that we will be able to fight well inside the top ten, and we will use the time until the GP to refine our setup for the 22 lap sprint. The weather is unpredictable at the moment, so we won't be completely sure of what it will do until it gets to race time, however, we will do some analysis tonight and be ready nevertheless."