Smith to start from front row at final round of MotoE World Cup in Valencia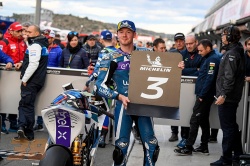 Posted on Nov 15, 2019 by One Energy Racing
The MotoE World Cup held its last E-Pole qualifying battle of 2019 on Friday afternoon and Bradley Smith claimed a spot on the front row for the second time this season. The ONE Energy Racing rider was one of the frontrunners throughout the day, also leading Free Practice 2.
Having set the best time on the combined Free Practice timesheets with a 1min 40.717secs, Smith was the last rider out on track in the qualifying session. Although he was unable to improve his time from FP2, a 1min 41.196secs lap was enough for the Briton to take third place in the E-Pole shootout.
The ONE Energy Racing rider will look to make good start from the front row on Saturday in the first of the two races held this weekend, which will take place at 4:15pm over a total of 7 laps.

Bradley Smith:
"Today has been one of my strongest days in this championship. Up until now I had struggled with this single-lap qualifying format, but I got onto the front row and will be right next to the title favourite. I'm very happy about today's result, since at previous races I've been hindered a lot by starting so far back. This qualifying format is not easy, since the track is very changeable from one session to another, but the situation is the same for everyone. There are riders who are better than me taking a risk at 100%, but we have achieved our objective, which was to be in the top three in each session this weekend.
Tomorrow I will try to take the lead from the start and escape, since I need to get the maximum number of points possible to have any chance of the title. I can't wait for these two exciting races this weekend."