Smith strikes gold in afternoon on the opening day in Montmelo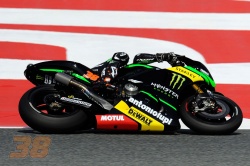 Posted on Jun 13, 2014 by Monster Yamaha Tech 3
Bradley Smith kicked off proceedings in spectacular style with a dominant ride to 1st position in FP2 on the opening day at the Gran Premi Monster Energy de Catalunya.
After beginning his weekend with a best time of 1.43,718 in this morning's FP1 session, Smith knuckled down with his Monster Yamaha Tech3 Team to continue his setup research from Mugello during the afternoon before expertly clinching 1st at the end of the session under gloriously sunny conditions.
The 23 year old completed a colossal 20 laps and his relentless efforts were rewarded with a 1.42,123 lap time which boosted him from 12th to 1st in the final five minutes of the session. His pace in FP2 saw him 0.151 of a second ahead of championship leader Marc Marquez and is also already an improvement of almost half a second from his qualifying time last year. Tomorrow, the young British rider will aim to continue from his superb start today by gunning for a top grid position in qualifying.
Bradley Smith - Position: 2nd - Time: 1'42.123 - Lap: 41
"To finish in 1st in FP2 is certainly great. I am pleased as we undertook some key work in Mugello and the results are shining through here as well. The setting is very positive with the bike although I wasn't able to show it last time unfortunately. The main thing we looked at today was the front contact, the turning of the bike as well as front tyre choices. There are still a few areas we need to make some small adjustments on such as the balance and how it behaves in sector 4 of the circuit which is a bit tough. Overall, I feel confident and happier plus I enjoy Barcelona as I run strongly here. It's been a tricky few races but we have always worked hard and now I aim to keep this positive momentum for this weekend and the next few MotoGP races and continue to try my best."