Smith taken-out by a falling Taka Nakagami at mid-race distance.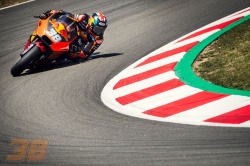 Posted on Jun 17, 2018 by Red Bull KTM Factory Racing
The 24 lap race distance was run in slightly cooler conditions compared to the sunshine and humidity that flooded the Grand Prix de Catalunya on Saturday for qualification.
Bradley Smith, the top qualifier after work during Friday and Saturday, ran strongly within the top ten for the first three laps and dropped back into the group scrabbling for the final point. He was then taken-out by a falling Taka Nakagami at mid-race distance.

Bradley Smith (Factory Rider MotoGP):
"A shame what happened and especially because I felt good all weekend. The start was amazing and I pushed hard in the first laps to maintain the position. I then found my normal pace and rhythm with Pol just inside the points and unfortunately Nakagami crashed and took me out. It is hard to finish a race like that after a positive weekend but we'll look forward to the test tomorrow and trying to get our bike ready for Assen."

Mike Leitner (Team Manager):
"We reduced the gap to the winner and took some more positions compared to last year but this race was difficult from day one because we were struggling with the tyre situation. It was a tricky race for each rider and they just had to survive in a way. Pol did well and Bradley did really well and was unlucky. We found quite a good package in the warm-up for Mika and he was feeling confident because he wasn't happy in qualifying but he had a typical 'first lap' mistake. We have a full list of things to test tomorrow and we knew that here, and Mugello, would be tough for us and where we suffered in our first year. We are still suffering in our second year but we are coming closer and we have to work to be even better in our third season."

Red Bull KTM's duties are not quite finished at the Circuit de Barcelona-Catalunya. A one-day test session tomorrow will allow the riders to continue their development and evolution work with the RC16.
After working its way across southern Europe for the last two rounds MotoGP will again head north through the continent and to the hallowed kinks and curves of the TT Circuit Assen in two weeks time.

Next Race: July 1, 2018 – TT Circuit Assen (NED)