Smith to begin home battle from 7th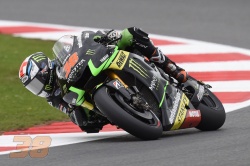 Posted on Aug 30, 2014 by Monster Yamaha Tech 3
British star Bradley Smith delivered a strong qualifying performance in front of his home fans to seize 7th position on the grid for tomorrow's MotoGP race at Silverstone.
The Monster Yamaha Tech3 rider continued his positive form from yesterday and began today by completing the FP3 session in 8th position with a best lap of 2'02.605 and just half a second from 3rd place. This quick time saw him breeze straight through to the 15 minute Q2 shootout session at the 5900 meter Silverstone track. Having established a strong setup for the race with his Monster Yamaha Tech3 team, he surged onwards with the weather threatening to rain but remaining dry. With the chequered flag being shown at the end of the intense Q2 session, Smith shot to a best time of 2'01.593 on his penultimate run and this lap saw him successfully clinch 7th position with it being only just over four tenths of a second from the front row.
His performance today sets him up for the epic showdown tomorrow aboard the Yamaha YZR-M1 where he will aim for glory in front of his home fans.
Bradley Smith: Position 7th - Time: 2'01.593 - Laps: 7
"I may be a little disappointed to get bumped down from 6th position by Valentino right at the end but I am still pleased with 7th as it could be a blessing in disguise for tomorrow's race start. By beginning in 7th and at the front of the 3rd row, I will actually be entering the first corner from the outside. At the first turn, it's easy to get passed on the inside but it will be almost better for me to roll around the outside of the curve which will then set me up for the inside of turn two. Then I aim to make a break and close to the front runners. Of course, it would have been great to have finished 6th or even higher and ahead of a factory bike, but there are lots of positives from today and I can't wait to get the show on the road in tomorrow's 20 lap race in front of my home crowd. In addition, I want give a big thank you to my team who really made a great effort and helped to take a lot of pressure off me."