Smith to speed from second row of the grid at Indianapolis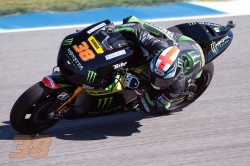 Posted on Aug 08, 2015 by Monster Yamaha Tech 3
Monster Yamaha Tech3 Team rider Bradley Smith produced a stellar effort in the qualifying practice at the Indianapolis Grand Prix today to clinch 6th position for tomorrow's 27 lap sprint. The young Briton began the day with a superb display in FP3 where he posted a top time of 1'32.421, which saw him finish the session in 2nd and just a blink of an eye back from the leading time by 0.029. Following this performance, the 24 year old was fully charged for a successful run in QP2. When the 15 minute shootout began, the British rider jumped onto the Yamaha YZR-M1 and burst into action before setting a time of 1'32.269 on his 7th lap which lifted him to third position.
He then attempted to lower the time further, before finishing in 6th which equals his best qualifying performance of the year, with his lap being only 0.083 from the rear of the front row. Smith now fully intends to undertake a typically strong start tomorrow to be able to battle as close as possible to the factory MotoGP bikes during the 10th round of the 2015 season.

Bradley Smith: – Position: 6th – Time: 1'32.269 – Laps: 9
"I'm really pleased with my performance today and in addition, my objective for the second half of this year was to qualify higher, so it has been a good start. At the same time, I am a bit disappointed as I was so close to the front row and I definitely left a bit of time out on track, but with everything being so close any small mistakes could have cost us a lot. I felt really good with the bike today and we started off well in the morning. Later we were even able to make another small step forward in FP4. We have made some considerable progress with the hard tyre and towards the end of the final practice session, I became much more confident about our chances in tomorrow's GP. It will be a long and tricky race but the key factor is to remain consistent. Yet, to start from the outside of the second row is quite positive and I have qualified in that position before so I know the right lines to take. This afternoon, we will improve our plan of action for tomorrow a bit more, but all in all, I'm ready for the fight."