Smith turns around a tricky weekend with top ten finish in Austria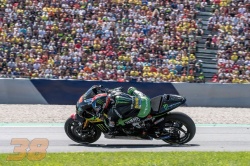 Posted on Aug 14, 2016 by Monster Yamaha Tech 3
Monster Yamaha Tech3 Team rider Bradley Smith delivered a fully determined performance today at the Austrian Grand Prix to clinch 9th in front of more than 95,000 enthusiastic spectators. The British star leapt forward from the middle of the fifth row of the grid and after navigating his way through the frantic first lap, he crossed the finish line in 11th. Shortly afterwards, Smith slipped back two positions but pushed onwards before moving up to 10th at the halfway point. He sustained his strong rhythm and closed down the gap to Laverty before gliding past him on lap 17 and then comfortably pulling away. The 25-year-old continued to lap at an impressive pace right until the chequered flag and was unlucky to just miss out on the top independent position by three-tenths of a second. Nevertheless, the result marks a positive close to a previously challenging weekend for the British rider.
Bradley Smith: – Position: 9th – Championship: 14th – Points: 42
"Overall, I have to be happy with the result and we really turned things around today. Having said that, I am also a little bit disappointed because the top satellite position was the aim, especially after the pace that we had in warm-up and I knew that we had a good chance. I was lucky at the beginning of the GP with all the jumps starts around me but I lost a large amount of time on the opening lap and then there were quite a few mistakes by other riders, which cost me. I was pleased that I managed to cut the gap to Laverty and Redding and I believe that I was really strong in the middle part of the Grand Prix. The only issue was that I put a lot of stress on my tyres to close that deficit to those riders. As we weren't too sure about the fuel consumption, we had to play it safe and slightly dial down some of the power, which meant that I wasn't able to get close enough to Redding to make a full attack. However, we already knew it would be a challenging weekend, but from where we were on Friday to where we are now, it's clear to see that we've made a big step and I have to say that I'm very proud."
Hervé Poncharal - Team Manager:
"It was an incredible weekend for MotoGP in Austria and we were given a very warm welcome, the facilities are amazing and the organisation was superb for our first race back here after so many years. This race is great for the country and very good for our sport. With regards to the Tech3 riders, we are reasonably happy and even though there is not a huge amount to celebrate because the riders finished in 9th and 10th, we had a tough week, so to obtain these positions is a rewarding payback for the team's efforts. From the word go, Brad and Pol pushed hard and had a strong pace all the way through and they gained places one by one. They deserve their results inside the top ten, even if they are further back from where they would like to finish. These points will keep us as the first independent team in the championship standings, which is important to me. Also Pol remains on top in the leading satellite battle which is very good news. We are a happy team, and now we are heading to the Czech republic with a positive feeling and there, I hope we can make a step up with both riders."