Solid opening day for Bradley at Assen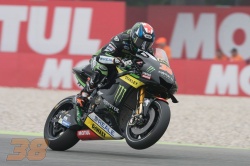 Posted on Jun 24, 2016 by Monster Yamaha Tech 3
Bradley Smith concluded a solid opening day at the historic Dutch circuit for the 8th round of the 2016 MotoGP World Championship. The 25-year-old instantly jumped into action when the morning session kicked off and he started the initial work as he looks to seal a strong placement in Sunday's Grand Prix. He finished in 9th with a time that was only 0.269 behind his teammate. Then, when Free Practice 2 commenced, the Briton continued his tireless work as he made adjustments to the setup of his Yamaha YZR-M1 and also made progress with the Michelin tyres as he gathered information for his race choice. He eventually completed 21 laps, setting his best time on the penultimate one and now he confidently awaits the second day of action at the Motul TT Assen.

Bradley Smith: – Position: 14th – Time: 1'34.531 – Laps: 40
"The opening day at the Motul TT Assen has been quite encouraging and I am satisfied with what we accomplished as I was inside the top ten throughout the day, which is positive for us. Yet, unfortunately we didn't undertake the best strategy for FP2 in terms of the scoring a fast lap time. Instead, we focused more on setting the bike up for the race and trying to improve my feeling, which seems to be good here, so we wanted to take advantage of this. Having said that, I'm a little disappointed to end up in 14th because we had the potential to finish inside the top ten today, which would have been useful in case of bad weather tomorrow. Anyway I have to acknowledge the positives, and overall, this is probably one of the better starts that we've had so far this season on a Friday. The guys and I worked really well as a team and all day we focused on trying to improve the rear setting of the bike and now we have a good plan for the rest of the weekend. We were able to try the soft and medium compounds of front tyre as well as the soft and hard rear options so now we have a clear indication of the direction which way we will follow this weekend."