Spanish sunshine brings KTM's best qualifing in MotoGP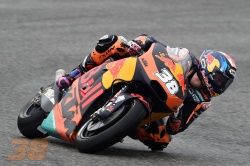 Posted on May 06, 2017 by Red Bull KTM Factory Racing
Qualifying for the Spanish MotoGP was very productive for the Red Bull KTM Factory Racing team today with 15th and 16th position for Pol Espargaro and a Bradley Smith aboard their KTM RC16s. It's the best qualifying so far for the Austrian prototype bikes in only the fourth race for KTM in MotoGP, ultimately with times set by both riders just over one second back from pole position.
Bradley Smith (Factory Rider MotoGP):
"This last week has been a really good step for our project which is a big thanks for everyone involved because there's been a lot of time and effort gone into the upgrades, so a huge thanks to everyone here and at KTM Motorsport in Munderfing, Austria. Here at Jerez, we've had good feelings and made steady progress session by session. We had some fast split times this morning that lit up red on the timing screens, which was a first for us, so everything is going in the right direction. It was very exciting in qualifying to finish the closest we've ever been to the pole, just 1.1 seconds off, so I feel good. We'll make some progress in the warm up to check the final tyre decisions, but overall a fantastic day for KTM."
Sebastian Risse (Technical Director MotoGP):
"We've had a very exciting weekend with big technical steps being taken quickly after a very short testing period. Sure, this brings risk into a race weekend but it worked out very well indeed. I think we can be very happy about where we are after this qualifying result - we could see the potential of the riders and the bike throughout the whole weekend. It is an important step forward. Now let's prove this in the race and see what is the next step forward."
Races:
April 23, 2017 – Moto3 11:00 | Moto2 12:20 | MotoGP 14:00 | Red Bull Rookies Cup 15:30 CET


Results Qualifying MotoGP Circuito de Jerez 2017
1. Dani Pedrosa (ESP), Honda, 1:38.249 min
2. Marc Marquez (ESP), Honda, +0.049 sec
3. Cal Crutchlow (GBR), Honda, +0.204
4. Maverick Vinales (ESP), Yamaha, +0.428
5. Andrea Iannone (ITA), Suzuki, +0.495
15. Pol Espargaro (ESP), KTM, +1.033
16. Bradley Smith (GBR), KTM, +1.072