Success in tricky conditions for Tech3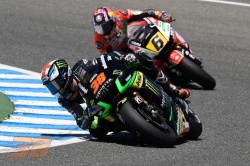 Posted on May 04, 2014 by Monster Yamaha Tech 3
The Monster Yamaha Tech3 team completed their third consistent double top ten finish in the MotoGP World Championship today in the scorching heat at Jerez, with Bradley Smith finishing in 8th and Pol Espargaro in 9th.
The 27 lap race proved to be an arduous affair, with the track temperatures reaching an extreme of 50°again. But Monster Yamaha Tech3's Bradley Smith displayed complete determination to chase the battle for 5th and attempt to equal his best ever result from round 2 at Texas. The 23-year-old British rider undertook a brilliant start from 9th on the grid, to aggressively claim five positions by the first corner.
As the laps progressed, Smith was shuffled back to 8th, yet he remained composed, and proceeded to recover the lost ground to the riders in front during the latter half of the race before closing to within a second in the final leg of the race. During the last lap it looked likely for the British rider to mount an attack, having caught the rear of the pack, but he narrowly missed out by 0.453 of a second to the leader of the four rider tussle, in what was another firm display by the young English.
Bradley Smith - Race: 8th - Championship: 8th - Points: 28
"We've had a few issues over this weekend, so 8th position is not a bad result at all. The plan was always to be in the fight for 5th, and it would have been great to finish at the front of that group, but I am still pleased with what we achieved. To be competitive until the final lap, obviously makes me happy and we made the right decision on the tyre choice. Every rider was struggling somewhat, so it was a case of trying to stay as smooth as possible and not making any errors. Another big positive was that I was much stronger at the beginning of the race with the full fuel load. This means that the work we have done so far this weekend has been positive, but there's still some more we need to do at the test tomorrow. I am sure we'll be strong again in Le Mans for the team's home event."
Hervé Poncharal:
"We always knew that it was going to be a very difficult race with the hot temperature, and were also aware that Dovisioso and Aleix Espargaro would be strong on the open spec MotoGP bikes. The top four guys were ahead of us, but we were right behind them, which was the group that were making the show for the fans and it was also excellent to see all the different manufactures in that battle. Bradley and Pol never gave up. Brad had a very strong start, and finished 3 hundredths of a second behind Aleix Espargaro which shows how close it was. We can be a little disappointed in that it was a tough battle and Pol and Bradley have been fighting really hard, and are not higher up. However, we are gaining ground on Ducati in the team in the world championship, who are just two points away, after previously leaving Qatar with zero points. There is a day of testing tomorrow where several ideas will be put to the test, before we move to the home Grand prix of Le Mans, where we aim to have a better result in front of our fans."