Sunday compromised by a crash for Smith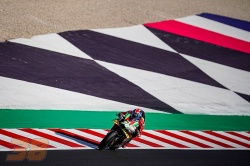 Posted on Sep 14, 2020 by Aprilia Racing Team Gresini
Bradley Smith's Sunday took an unpleasant turn straight away with a crash in the early stages of the race. The British rider was able to re-join but, with a damaged RS-GP, he had to settle for crossing the line when the chequered flag came out.
Both riders will have a day of testing on Tuesday on this same track, which will host the MotoGP round a second time next weekend.

Bradley Smith:
"Unfortunately, the crash in FP3 compromised our weekend. The sensations were good on Friday, but when I had to switch to the second bike, it wasn't the same feeling in qualifying or in the race. Today I crashed on a bump and then, despite the bike being damaged, I was able to re-join and finish the race. We'll use the tests on Tuesday to take a closer look at what is causing our difficulties so we can be better prepared for the next race."