Tech3 confident for all important Home GP after positive Jerez test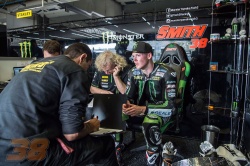 Posted on Apr 25, 2016 by Monster Yamaha Tech 3
​Bradley Smith made steps forward as he focused on re-evaluating setup options for his Yamaha YZR-M1 in Andalucía today as well as also sampling the new Michelin tyres. The young Briton got straight to work with his Monster Yamaha Tech3 Team and relentlessly completed 71 laps. His fastest time was less than four tenths from his teammate, which he set on his penultimate lap of the day. His test performance leaves the 25-year-old confident of a strong showing for the Monster Yamaha Tech3 Team's home Grand Prix at Le Mans in a fortnight's time.
Bradley Smith: – Position: 11th – Time: 1'40.335 – Laps: 71
"Even though the results from today's test are not incredible, we've made some good progress but I don't think this will dramatically turn around my season. We've been struggling a little so far this year, and I've never really found something that I'm completely comfortable with. A lot of what we did today was going over the things that we adjusted in the first track appearances in 2016 so that we could reconfirm our knowledge. The adjustments that we have made aren't negative and we can see that we have gone in the right direction. This morning we retested everything and made sure that we have the best package in our garage. Then, this afternoon we tried a couple of front tyres for Michelin. I just evaluated these as best as I could but we used the normal tyres for our setup work as these new tyres are for the future. After that, we continued to focus on the bike, by establishing a base setting plus modifying the rear shock and altering my riding position too. It's been a busy day and there were no miracles, but then again, we weren't really expecting any. The team and I just wanted to keep our heads down, do our best and gain about 0.3 seconds a lap. In the end, we actually beat our objective as we were about 0.5 faster. So I am pleased with the outcome and the team did a good job so let's see what we can do at their home GP."