Tech3 power through day one in Malaysia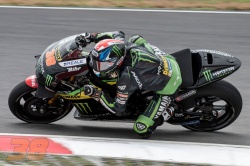 Posted on Oct 28, 2016 by Monster Yamaha Tech 3
Monster Yamaha Tech3 team rider Bradley Smith began his round 17 campaign with a resolute display on the first day of action at the world famous Sepang International Circuit. The British star arrived in Malaysia after impressively concluding last Sunday's Australian GP in 8th, despite an ongoing knee injury and he wasted no time in immediately launching into action in Free Practice One where the riders first sampled the recently resurfaced track. Here, Smith finished less than a second back from third and the encouraging performance left him fired up for the afternoon. However, a typical Malaysian downpour disturbed play and meant that the asphalt was wet when FP2 started. This did not deter Smith, who continued his work as he set his fastest time in the final moments of the session, which left him in 4th. The 25 year old's personal best from FP1 sees him end the day in 14th, and the 2015 leading satellite rider now looks on to producing a determined ride tomorrow to claim a solid grid placement for Sunday's race.
Bradley Smith: – Position: 14th – Time: 2'02.484 – Laps: 25
"Overall, the first day was quite positive at Sepang. This morning, I felt pretty good and we used both options of front tyres that are available; a medium compound and a hard. This harder tyre was new for me and I haven't used it this year so far, but it was good to complete some distance on it and I felt comfortable. I didn't change the rear tyre because I wanted to put almost a full race distance on it for Sunday, however, maybe this wasn't the best plan for today with the changeable weather. Yet, I always prefer to focus on my race setting, rather than putting in a fast lap on Friday, so now we have to hope for dry weather for FP3 tomorrow. This afternoon, the conditions were tricky and to be honest, completing too many laps with wet tyres didn't make sense because there wasn't a lot of water on the track. We didn't need to risk anything so we waited and then in the final stages I went out and it was good to assess these conditions because there is a chance that we may have to experience this sort of weather again this weekend. Anyway, tomorrow, we hope that we can push inside of the top ten and then go straight through to Q2."